Booking now closed, a few tickets still left on the door.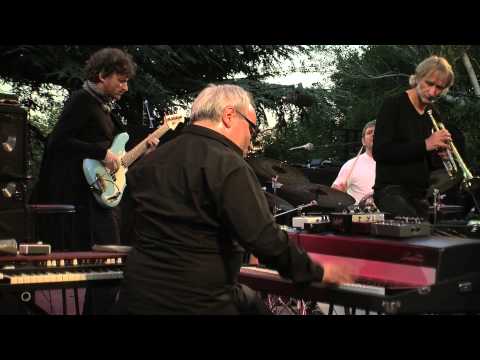 LINEUP CONFIRMED: Erik Truffaz, trumpet, Marcello Giuliani, Bass, Marc Erbetta, Drums, Benoit Corboz: Fender Rhodes, accoustic Piano and other keyboards
The Erik Truffaz Quartet is first and foremost a collective entity with its own sound and group dynamic. In 1997, the band, then featuring Marcello Giuliani on bass, Marc Erbetta, drums, and Patrick Muller, keyboards, released its debut "Out of a dream" on Blue Note. On the follow-ups, "The dawn" and "Bending new corner", rapper Nya added a poetic, urban touch; the clip "Yuri's choice" went a long way to developing the music's popularity. The group drew inspiration from gigs at London's Blue Note Club, a temple of drum & bass, and did its composing on tour during sound checks, from fragments of improvisation.
The music springs into life naturally, effortlessly, like painting in the mirror of inspiration. On the back of these two albums the group acquired an international dimension, touring regularly, developing a trademark feelgood sound.
The band made its first big change of direction in 2003 with the organic, bubbling rock-inspired "The walk of the giant turtle". When sound engineers Corboz and Giuliani added distortion to his trumpet sound, Truffaz was initially infuriated, but then went on to espouse and develop the concept. With the "Arkhangelsk" album, the band came of age, in the company of Ed Harcourt and Christophe, two singers with two special voices and great tracks. In June 2010 Benoît Corboz, the band's studio sound engineer since "The Dawn" took over from Patrick Müller on keyboards. The new line-up wasted no time in going into the studio. The result was a new sound, kneaded energetically like a dough, then left to rest and ferment before being worked up into the album "In Between", a celebration of slow tempos, deliberate silence, elastic space and intimacy. Marcello Giuliani reverted to upright bass and recorded one track on banjo.
Guest singer Sophie Hunger added her wonderful voice on two tracks: "Dirge", a Bob Dylan cover, and an original composition entitled "Let me go! ". http://www.eriktruffaz.com http://www.twogentlemen.net
El tiempo de la Revolución
The Quartet's latest release picks up where the previous offering "In between" left off, as though
it were the second episode or chapter of a story begun in 2010.
As time went by and we played more gigs, the music grew in strength, the band's sound gained a new magnitude and density. For this record, the Quartet essentially wrote in the studio. Working together on each other's suggestions, taking them apart, putting them back together again. This slow, introspective process produced one track each day. The album begins with "El Tiempo de la Revolución", an alternative approach to the closing track "Time of Revolution" and one of the few pieces that we wrote before going into the studio. The difference in form between the two titles reflects the wealth of the work this quartet does, its ability to go off in opposite directions.
We made part B on tour in Istanbul. "Istanbul Tango" was born on the day we came back from the city we love so much. The instrumental "African Mist" grew out of a bass line that we doubled up with piano. All sitting around on the floor in the same room, unplugged, we worked it out in the space of a morning. The valve reverb on the Hammond organ gives it a psychedelic feel. It's wonderful to lay down trumpet lines on an ample, round and sensual rhythm like this. "La Luna Mentirosa", the first track in the session, was composed and recorded in one day and was an unsettling soundscape until the melody emerged. As the sculptor Brancusi put it: The problem is not 'doing', it's getting yourself into condition to 'do'. Anna Aaron sings on three tracks. She is moving and original. She was the supporting act on our "In Between" tour and we were quickly blown away by her talent. The group suggested she sing on "Blue Movie" and "A Better Heart" and her finesse and elegance magnified the music. Like a game of ping-pong, the band returned the favour with an arrangement of one of her ideas, "Blow Away".
"Mr K." is dedicated to our manager L. Klunge, efficient and rhythmic. An unstoppable bass line and a groove that gets its inspiration from our Motown idols. Benoît and I arrived in the studio one cold morning. We improved six pieces. This is an experience we really enjoy. Trusting in each other, the void and the music that was right in the centre of our thoughts. From these improvisations we kept: "Un Souffle qui Passe".
"El Tiempo de la Revolución expresses the successive revolutions through which our lives are chronicled, like a long poem written during the course of time, in a place where we are at once both actors and spectators. The time of the revolution is also the time of birth, of love and of death. It's a battle for a juster world beneath the banner of art. Through music we are enabled to weave a link between the sky and the earth."
Support: The Ronnie Scotts All Stars
The Ronnie Scott's All Stars are comprised of some of the greatest talents on the U.K scene, including some of our most regular performers James Pearson (piano), Sam Burgess (bass) and Pedro Segundo (drums)
James Pearson:-
Musical Director at Ronnie Scott's and the owner of a ferocious piano technique coupled with a sense of musicality rarely heard, James Pearson is one of the most exciting musicians to have emerged from the U.K in the last 25 years. After working with him, the late jazz legend Sir John Dankworth declared: "James Pearson is an exceptionally gifted artist. His masterful playing makes him head and shoulders above the rest of his contemporaries. He shows signs of true greatness".
Sam Burgess:-
Double Bass Despite only being in his early 30's, already Sam is a stalwart of the UK jazz scene. As well as appearing on numerous film soundtracks such as 'Bridget Jones's Diary' and 'Hannibal'. Sam's thumping, pounding, relentlessly driving bass lines have been heard accompanying the likes of Bob James, Billy Kilson, Gary Novak, Joe Lock, Dave Kekowski, Guy Barker, Dave O'Higgins, Pete King, Gareth Williams, Claire Martin, Jim Mullen, Alan Barnes, Tim Whitehead, John Horler, Gwyneth Herbert, John Dankworth, The BBC Big Band and Robbie Williams.
Pedro Segundo:-
At 22 years old Pedro Segundo, Portuguese drummer joins the James Pearson Trio at Ronnie Scott's Jazz Club.
Born and raised in Lisbon, picked up the drums seriously at the age of eight starting studying classical percussion a year later. In June 2011 he graduates from Guildhall School of Music and Drama in Timpani and Classical Percussion. His musical ability combines a blend of styles creating a unique sound on the drum set. He has played regularly with Dennis Rollins, Femi Temowo, Mário Franco, Cleveland Watkiss and many other artists touring in festivals all around the globe.
Other regular performers include:
Dave Ohm (drums), Natalie Williams (vocals), Alex Garnett (sax), Nigel Price (guitar), Steve Rushton (drums), Polly Gibbons (vocals), Alistair White (trombone), Gary Baldwin (hammond), Al Cherry (guitar), Matt Home (drums), Alan Barnes (sax), Ralph Salmins (drums), Arnie Somogyi (bass), Mark Smith (bass), James Nisbet (guitar), Pete Long (sax), Gerard Presencer (Trumpet), Dave O'Higgins (sax), Alec Dankworth (bass), Steve Fishwick (trumpet) and others...
To find out more, please go to:
www.myspace.com/thejamespearsontrio