Booking now closed, a few tickets still left on the door.
Legendary drummer Ginger Baker brings his African Jazz Fusion project in a band
featuring Ginger Baker – drums, Pee Wee Ellis – tenor sax, Alec Dankworth – bass (Thursday) and Michael Mondesir - bass (Friday), Abass Dodoo – percussion

"Mr. Baker's sound is imposing and broad, slow and confident, from the double snares to the steady pedaling of his high-hat. It's not loud with ambition, but with spirit and intent." - New York Times

Ginger Baker is back with his first new album in 15 years, Why?, released by Motema Records. It features his Jazz Confusion band, who have accompanied him on tours in the UK, Europe and Japan and also on several sold-out dates in the US. The sound is both a return to Baker's roots and a new exploration of the kind of cross-genre, innovative fusion that he has always championed since his afrobeat years in Nigeria with Fela Kuti in the 70s.

Why? continues that tradition thanks in no small part to Ghanaian percussion powerhouse Abass Dodoo. The two have worked together for several years now and it certainly shows; the charged interplay between Dodoo's explosive exuberance and Baker's trademark disciplined insistence has been honed into a web of complex rhythm that forms the backbone of each piece.

Meanwhile, funk giant Pee Wee Ellis, who got his start as bandleader for James Brown, lays down line after line of effortless bluesy soul on the tenor sax; in a quartet where half the musicians are percussionists, both Ellis and bassist Alec Dankworth are called on to sustain the melodic element just between the two of them, a challenge they more than rise to.

It's an unconventional line-up and an unconventional sound from a man who has never done what anyone expected of him; once voted 'Musician Least Likely To Survive The 60s', Ginger Baker is still here, still playing and still pushing boundaries.
GINGER BAKER // Jazz Confusion

Pee Wee Ellis
Described as 'The Man Who Invented Funk', Pee Wee joined the James Brown Revue in 1965 and began arranging his music almost right away, becoming Brown's band leader within six months. Very soon they were writing songs together and in 1967 Pee Wee co-wrote with James Brown his first hit Cold Sweat, followed by many others including Say It Loud, I'm Black and I'm Proud, Mother Popcorn, and The Chicken.
Pee Wee also worked for many years as Van Morrison's concert musical director and arranging many of his finest albums such as Common One, Beautiful Vision and A Sense Of Wonder.
With Fred Wesley and Maceo Parker he recorded a number of albums in the 1980s that defined his distinctive brand of jazz-funk.

As well as playing with Ginger Baker, Pee Wee currently leads both The Pee Wee Ellis Funky Assembly and The Pee Wee Ellis Jazz Quartet. He continues to work in the education field as well as producing and arranging.
Abass Dodoo
Abass was born into a family of well-known royal Ghanaian drummers and began drumming from the age of 6 by his grandmother, who taught him the drums by singing the rhythms. He was formally trained by his uncle, the famous Ghanaian master drummer Mustapha Tettey Addy, playing with the Royal Obonu Drummers from the age of 10 years.
As well as performing, Abass has been delivering workshops and classes for the past 30 years, nationally and internationally. He leads African collective One-Drum's dynamic performance work in a wide range of Africa's drumming traditions.
Alec Dankworth
Alec Dankworth is an award-winning jazz bassist and composer who, in addition to leading several groups of his own, has worked with an amazing list of artists including Van Morrison, Stephanne Grappelli, Abdullah Ibrahim, and The Dave Brubeck Quartet. He is known for his energetic stage presence, versatility of style and some of the most imaginative bass solos around!
Mark Mondesir
Mark certainly is one of the most astonishing drummers on this planet with a mind boggling concept of time, creativity and speed that is bordering the super human. Mark began his professional career touring and recording with saxophonist Courtney Pine. Mark has earnt an enviable reputation as one of the finest drummers the UK ever produced. Mark has worked with many artist ranging from rock guitarist Keith More to jazz greats such as: Julian Joseph, John McLaughlin and Kevin Eubanks. Marks never ceases to amaze audiences with his awe-inspiring technique, subtle feel and sheer inventiveness.
GINGER BAKER // Biography

Ginger Baker's recognition as a drummer began during the Graham Bond Organisation in the early sixties. The band toured with The Who, The Troggs, The Moody Blues and Chuck Berry, attracting press interest for their outrageous behaviour and riotous fun. In 1964 Baker was considered 'one of Britain's great drummers' by Melody Maker journalist, Chris Welch.

While Baker was impressing music journalists, he was also attracting attention from other musicians, one of them being Eric Clapton. The two met, jammed, saw one another play in their then current bands, added bass player Jack Bruce and formed Cream. In Baker's own words they created 'instant magic' and began touring earning £45 per show, to later smashing box office records previously set by The Beatles.

After Cream, came Blind Faith. Baker and Clapton were joined by Steve Winwood and Rick Grech to make just one album. When Clapton and Winwood left to further their own projects, the remaining members went on to form jazz rock fusion band 'Ginger Baker's Airforce' adding sax, flute, organ and extra percussion to the band.

During a trip to Africa Baker found himself moved and inspired by Nigerian radio. Despite the war zone in that part of the country he was adamant about visiting Nigeria and pushed to set up a recording studio in Lagos. When it opened as 'Batakota Studios' Paul McCartney arrived with Wings to record part of his 'Band on the Run' album. Music aside, Africa gave Baker a wonderful climate to live in and a healthier lifestyle than that of rock n roll and touring. He discovered his love for polo and rally driving.

Baker's work with Airforce and friendship with Fela Kuti pathed the way for Baker's next musical project: to work with African musicians. A live album was recorded in Abbey Road studios under the name of 'Fela Ransome - Kuti and Africa 70 with Ginger Baker'.

He then went on to form English rock group The Baker Gurvitz Army in which Baker was also involved with providing extra sounds for their debut album. The wheel spins from his Jensen FF were used for their song 'Mad Jack'. He also rode a wheeled swivel chair backwards down a flight of stairs for a second track on their debut album.

Ginger Baker Jazz Confusion was formed in 2012; since then, the band has toured Europe, the UK and the US, and show no signs of stopping!
Fletch's Brew
First-call drummer Fletcher leads this powerhouse jazz fusion outfit featuring a superb frontline of Freddie Gavita (tpt) and Carl Orr (gtr), plus Steve Pearce (bs)

"We haven't had anything like this in New York for over twenty years". Wynton Marsalis

The Ronnie Scott's Late Late Show!
MONDAY - THURSDAY 11pm-3am
FRIDAY - SATURDAY 1am-3am

ENTRY ON THE DOOR (NO PREBOOKING)

£10 Entry, £5 Students (with ID), FREE entry to MU, Club members and main show ticket holders

In 1959, saxophonist Ronnie Scott opened the door to a small basement club in London's west end where local musicians could jam. Today, it is one of the world's most famous jazz clubs attracting packed houses and the biggest names in jazz and popular music and Ronnie Scott's welcoming, stylish setting is also home to London's coolest late night hang.

Each night Monday to Saturday, after the main act, Ronnie Scott's presents the Late Late Show, where some of the UK's finest jazz talents take to the stage for a late night blowing session.
Tonight,
Mark Fletcher presents his latest creation Fletch's Brew. With members from the Ronnie Scott's All Stars Band and guest appearances from some of London's top session jazz musicians, they play funky jazz originals and also feature the music of Pat Metheney, Michael Brecker and some of the Weather Report classics. This is a new band which is fast becoming a regular fixture at Ronnie Scotts. Being true exponents of their art, Mark and his motley crew know how to kick it. He is one of England's most versatile drummers. "It's all in the groove", he says whether it's straight ahead jazz, free improvised music, rock and world music. Mark has been a regular at Ronnie Scott's since the late 1980's working with Dizzy Gillespie, Mark Murphy, James Moody, Michel LeGrand, Norma Winstone, Liane Carroll and many more.
If it's top modern kickass jazz you want, then your thirst will be quenched and you will want to come back for more of the 'Brew.
Marcus Miller Sits in with 'The Brew'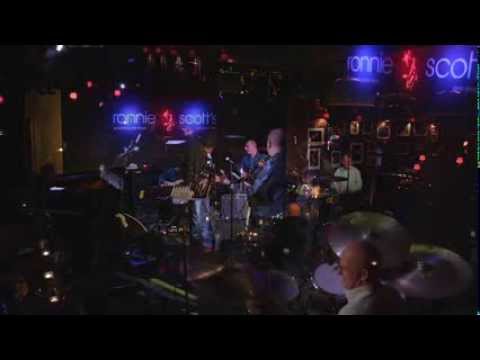 Live At The Cowshed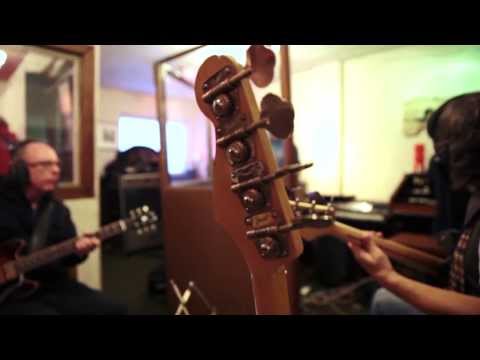 RECENT RAVE REVIEW!
Debates about just what 'jazz-fusion' is, where it begins and where it ends will never be completely resolved, but watching the London based band, Fletch's Brew, that doesn't really matter. Fletch's Brew is a 'fusion' band in the most fundamental sense. It is a fusion of radically different personalities with vastly different musical pedigrees, all coming together to play some of the most exciting and challenging music that can be found in London. Leading the band is Mark Fletcher whose CV reads a bit like a modern jazz lovers record shelf. From Ronnie Scott and Pete King, Hatfield and The North and Gary Husband to the final line-up of Soft Machine to feature Elton Dean and Hugh Hopper, if you know their name Mark Fletcher has probably played with them. Fletcher's style is deeply aggressive whilst rock solid whether swinging, grooving or dancing round odd metres. Drummers come to learn and other musicians come to ask to play with him. He is equally comfortable playing a manic Cobham style solo as he is doing a steady shuffle. At home as much in Elvin Jones territory as he is Tony Williams Lifetime territory. And if you don't think brushes can be played loud just come to one of his gigs.
On bass is Steve Pearce. Steve often plays in the BBC Orchestra, does session work for the great and good and even tours with major pop stars like Tom Jones, though his ultimate passion is the jazz he plays with 'The Brew'. An accomplished double-bass player, with The Brew you'll see him standing calmly with his Fender Jazz Bass. His warm rounded timbre holds this wild band together. You can count on a flawless, unmissable performance but one where the excesses of some over-zealous bass players never comes at the expense of holding down the rhythm section.
On trumpet and flugelhorn is the band's youngest member, Royal Academy trained Freddie Gavita. When not in The Brew you'll find him playing at the more bop-orientated Late, Late Shows at Ronnie Scott's or indeed taking his place in the Ronnie Scott's in house big band. But with the Brew his most experimental playing shines. Whether delving blistering solos on new arrangements of jazz standards(often his own arrangements), playing his original deeply melodic compositions, or playing his trumpet through guitar effects pedals, Gavita is never one to retreat into safe conservative jazz trumpet territory.
Finally the bands primary writer and guitar player, Carl Orr. Whether teaching music at a conservatory level or touring with the likes of Billy Cobham and George Duke, Orr is the consummate perfectionist. Much of the music on 'The Brew's' set list are his own compositions, some written specifically for Fletch's Brew. Whether using his lush and unobtrusive chords to fill out the sound pallet of the usually keyboard-less band or playing rich, colourful and often loud solos, even non-musicians soon realise they are in the presence of a man who is a true master of his instrument. And if that's not enough the band is occasionally rounded out with the keyboard playing of Jim Watson and the sax stylings of Julian Siegal, two very much in demand players in the UK and around the world.
When these four come together they are able to cover some of the most interesting periods in jazz. Indeed they force audiences to question the limitations of modern jazz, limitations often set far too low. From Kind of Blue to Headhunters, new arrangements of jazz standards to material from Steely Dan. From ultra-groovy tracks from Billy Cobham to the intricate odd rhythms of Mahavishnu Orchestra and finishing off with new compositions by Gavita and Orr; it's often amazing how much musical diversity Fletch's Brew can cram into set-lists which often last for just over an hour at their most popular gig playing almost every weekend at the Ronnie Scott's Late Show.
In an age where so much music is chewed up and spat out, Fletch's Brew offer music that is technical without being overly obscure. Virtuosity is on display and still people want to get up and dance.
For anyone who thinks jazz has become overly introspective or too academic need over the last 20 years, one only needs to listen to Fletcher's jokes which bookend each song to realise that the band are having as much fun as the audiences. So for a late night or early morning of jazz in London why not drink a jug of Fletch's Brew. It's still legal…for now.
BIOGRAPHY
Mark

Fletcher

Jim Watson

Steve Pearce

Freddie Gavita

Carl Orr

Drums

Keyboards

Bass

Trumpet

Guitar

MARK

is one of England's most versatile and in demand drummers. Equally at home in straight ahead jazz, free improvised music, rock and world music;

Mark

has been a regular at Ronnie Scott's since the late 1980's working with Dizzy Gillespie,

Mark

Murphy, Michel LeGrand, James Moody, Dave Gilmore, Tim Garland, Liane Carroll, Norma Winstone, Georgie Fame, Ian Shaw, Cedar Walton, Kenny Wheeler.

Click here for more info



JIM is a globe-trotting keyboard wizard and piano improviser. Well regarded on the international session scene and the global jazz circuit, Jim has worked with a galaxy of stars including Charlie Watts, Chris Difford (Squeeze), Katie Melua, Bobby Watson, Clark Tracey, Alan Barnes, Marti Pellow, Peter King, Jean Toussaint, New Heavies, Incognito, US3, Jim Mullen. This is a rare opportunity to see a unique musical talent.

Click here for more info



STEVE is one of the busiest bass-guitar session stars in the world.

His

astonishing career includes work with Van Morrison, Stevie Wonder, Herbie Hancock, Wayne Shorter, Madonna, Elton John, Sting, George Michael, Bryan Ferry, Scott Walker, Tom Jones, Al Jarreau,

Mark

Knopfler, Annie Lennox, Diana Ross, Bob Geldof, Chrissie Hynde, Take That, Boyzone, Mick Hucknell, The Osmonds and the one and only, Placido Domingo.

Click here for more info


Freddie is a London-based jazz trumpeter, composer, arranger and teacher. He plays regularly with the John Dankworth Orchestra, the Ronnie Scott's Big Band, Empirical, and the Ronnie Scott's All-Stars. He has performed with many of the worlds biggest jazz and pop stars, the Laurence Cottle Big Band, the London Jazz Orch, the Andy Panayi Big Band, Tom Cawley Quartet, Huw White's Neon Bedroom and Symbiosis.

Click here for more info


Carl has played with Jackie Orszacky, Dale Barlow, Marcia Hines, Steve Hunter, Wanderlust and James Greening. After moving to London in 1995, he worked with Billy Cobham from 1996-2000 and in that context, he performed with Randy Brecker, Ernie Watts, Gary Husband and George Duke. Since then he's been working on

his

own music as well as working with many other artists and enjoys teaching students.

Click here for more info