Booking now closed, a few tickets still left on the door.
LINEUP :
Nicola Conte – guitar, Pietro Lussu – piano, Luca Alemano – bass, Dario Congedo – drums, Francesco Lento – trumpet, Magnus Lindgren – sax, Bridgette Amofah – vocals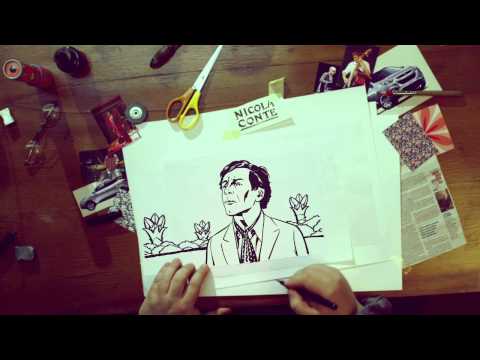 A very welcome return for Italian DJ, producer, guitarist and band leader, Nicola Conte whose shows last year were a highlight! Expect sharp-suited retro jazz with a Bossa Nova flavour and funky edge from Conte, who is renowned for introducing an innovative, uniquely Italian style of acid jazz that incorporates Bossa Nova themes, melodies drawn from Italian film scores of the 1960s, easy listening themes and beyond.
Italian DJ and producer Nicola Conte became famous with his loungey brand of jazz that relies extensively on bossa nova, but is also heavily influenced by the swinging soundtracks of Italian films in the '60s and '70s, plus touches of ethnic music and kitsch.

Being part of the loose-knit 'Fez collective', centred in the Italian town of Bari, Conte did not only mastermind the Schema label, but also his own recording career, scoring an underground hit with first single "Bossa Per Due". Conte's critically acclaimed debut album Jet Sounds was followed by the remix album Jet Sounds Revisited in 2002 and two years later Conte debuted on Blue Note with Other Directions. Following his third studio album Rituals on Universal he satisfied his love for and dedication to Brazilian music compilingViagem and Viagem 2 on Far Out in 2008 & 2009.
In 2011 Nicola released the third part of the collectionViagem 3 next to his latest studio album Love & Revolution which has been released on the legendary Impulse Label and features a vast number of amazing and internationally known artists such as Jose James, Gregory Porter, Till Brönner and Magnus Lindgren.
Love and Revolution
"It came to my mind that L&R could be the title of a poem by Majakovskij, or by Amiri Baraka, or of a collection of 1968 African-American protest poets. Maybe they all have something to do with it. The ideals have something to do with it.
Love is a revolutionary ideal, and Love & Revolution is a protest album: perhaps romantic, sentimental. But that's what it is.
For a new cultural revolution.
I've been inspired by the music of many "dark and mystical" jazz musicians: Mal Waldron, Max Roach, Jackie McLean, Pharoah Sanders; the political soul of Curtis Mayfield, Marvin Gaye, Donnie Hataway, Roy Ayers, Nina Simone.
And folk, psychedelic music . . . the Byrds, Bob Dylan, Jefferson Airplane, Bobbie Gentry.
Who knows: today is once again the time of music and artists who sing about ideals, about hope.
The sense of spirituality, of free expression, the extraordinary companions I welcomed at Bari where the album was recorded live, all together, with few takes.
And in this kaleidoscope of impressions the voices play a key role, reinventing music or creating it.
There was a feeling of discovery in the studio.
A sentimental journey, for tomorrow."
Nicola Conte
Love & Revolution
Nicola Conte is back recording, and this time he speaks of love and revolution in an album released by the legendary label Impulse!
Love & Revolution is a reflection in music on the values of our society: values to recuperate, values that have continued to be a beacon for many generations, values sung by youths in the late 1960s. And it is precisely this cultural atmosphere that Conte refers to, both in his choice of repertoire and in the splendid arrangements by Magnum Lindgren, and (perhaps above all) in the lyrics, all written by Conte himself (with the exception of two).
Love & Revolution is in fact an album in which the human voice is protagonist, though perfectly blending with a "sound carpet" of extraordinary effectiveness. And the character of group creation is unquestionably one of the most evident and enthralling aspects of this album. Here Nicola has decided for the most direct, most effective (let's admit it: most jazz) way to obtain the set goals: he invited musicians into the studio and recorded live, setting aside few additions during post-production. The result is extraordinary, the interplay between musicians is perfect, and the many excellent solos never slip into the fetters of protagonism.
The political character (in a broad sense) of the lyrics, reference to a historical period and a style—profoundly Afro-American—which in those years was a veritable soundtrack of awareness and involvement, and having entrusted the message to a noteworthy cosmopolitan group of musicians that with such a style find their own koine, their own shared language: this is the essence of Love & Revolution, whose 2 CD deluxe version—in its even more generous offering—is perhaps the most accurate portrayal of its creator's intentions.
Love & Revolution makes use of the talents of singers José James, Nailah Porter, Melanie Charles, Gregory Porter (U.S.A.), Veronica Harcsa (Hungary), Alice Ricciardi (Italy), and Bridgette Amofah (U.K.); trumpet players Till Brönner (Germany), Nicolas Folmer (France), Fabrizio Bosso and Flavio Boltro (Italy); trombonist Peter Fredriksson (Sweden), sax player and flautist Magnum Lindgren (as well as arranger, Sweden), Gaetano Partipilo (Italy), Timo Lassy (Finland), Logan Richardson and Tim Warfield (U.S.A.); pianist Pietro Lussu, bassist Paolo Benedettini (Italy); drummer Teppo Makinen (Finland); vibes player Michael Pinto (U.S.A.); drummer Pierpaolo Bisogno, and the programming of Andrea Santoro (Italy), as well as the leader's contribution at the guitar.
To comprehend fully Nicola Conte's music originality and sensibility we should refer, together with his productions, to the unavoidable Fez's activity, a cultural movement founded by Conte himself in Bari in the early nineties. A real melting pot of several creative musicians, who first of all are friends and grew up together with the same intellectual, music and political similarities. Cultural trouble-makers, emotional dreamers, Jazz enthusiasts of the fifties and sixties, deep "nouvelle vague" connoisseurs, compulsive vinyl collectors, design and graphic experts, people crazy for cultural beat and books written by revolutionaries like Jean Paul Sartre and Boris Vian.
The atmosphere at Fez seemed to be the same detectable at Tabou, the legendary "caveau" in Saint Germain de Pres, described by Vian himself. It is place where it was possible to listen to records, watch cult movies of those two decades ('50s and '60s) and look for solutions to the intellectual uncomfortableness.
Today, some years later, one of the strongest expressions highlighted at Fez is still that of the music.
Support: The Ronnie Scotts All Stars
The Ronnie Scott's All Stars are comprised of some of the greatest talents on the U.K scene, including some of our most regular performers James Pearson (piano), Sam Burgess (bass) and Pedro Segundo (drums)
James Pearson:-
Musical Director at Ronnie Scott's and the owner of a ferocious piano technique coupled with a sense of musicality rarely heard, James Pearson is one of the most exciting to musicians to have emerged from the U.K in the last 25 years. After working with him, the late jazz legend Sir John Dankworth declared: "James Pearson is an exceptionally gifted artist. His masterful playing makes him head and shoulders above the rest of his contemporaries. He shows signs of true greatness".
Sam Burgess:-
Double Bass Despite only being in his early 30's, already Sam is a stalwart of the UK jazz scene. As well as appearing on numerous film soundtracks such as 'Bridget Jones's Diary' and 'Hannibal'. Sam's thumping, pounding, relentlessly driving bass lines have been heard accompanying the likes of Bob James, Billy Kilson, Gary Novak, Joe Lock, Dave Kekowski, Guy Barker, Dave O'Higgins, Pete King, Gareth Williams, Claire Martin, Jim Mullen, Alan Barnes, Tim Whitehead, John Horler, Gwyneth Herbert, John Dankworth, The BBC Big Band and Robbie Williams.
Pedro Segundo:-
At 22 years old Pedro Segundo, Portuguese drummer joins the James Pearson Trio at Ronnie Scott's Jazz Club.
Born and raised in Lisbon, picked up the drums seriously at the age of eight starting studying classical percussion a year later. In June 2011 he graduates from Guildhall School of Music and Drama in Timpani and Classical Percussion. His musical ability combines a blend of styles creating a unique sound on the drum set. He has played regularly with Dennis Rollins, Femi Temowo, Mário Franco, Cleveland Watkiss and many other artists touring in festivals all around the globe.
Other regular performers include:
Dave Ohm (drums), Natalie Williams (vocals), Alex Garnett (sax), Nigel Price (guitar), Steve Rushton (drums), Polly Gibbons (vocals), Alistair White (trombone), Gary Baldwin (hammond), Al Cherry (guitar), Matt Home (drums), Alan Barnes (sax), Ralph Salmins (drums), Arnie Somogyi (bass), Mark Smith (bass), James Nisbet (guitar), Pete Long (sax), Gerard Presencer (Trumpet), Dave O'Higgins (sax), Alec Dankworth (bass), Steve Fishwick (trumpet) and others...
To find out more, please go to:
www.myspace.com/thejamespearsontrio