Booking now closed, a few tickets still left on the door.
Led by three of the original founding members, saxophonist Jerry Martini, trumpeter Cynthia Robinson and legendary drummer Greg Errico, The Family Stone laid down the groove on some of the greatest funk tunes of all time from 'Dance To The Music' to 'Family Affair' and 'Sing A Simple Song' as together with Sly Stone they created the first first inter-racial, multi-gender major American Band. But it's not just Sly with whom they've performed, individually they would go on to appear with the likes of Prince, Graham Central Station, Van Morrison, George Clinton, Joe Zawinul, Grateful Dead and Santana. They are joined here by Blaise Sison, bassist and musical director, and guitarist Nate Wingfield. Expect a set of their classic hits including: 'I Want to Take You Higher', 'Everyday People', 'Thank You Falettinme Be Mice Elf Agin', 'Dance To The Music', 'Hot Fun In The Summertime', 'Family Affair', 'Sing a Simple Song' and many more.
The Family Stone


The Family Stone original Founding members Jerry Martini, Cynthia Robinson and Greg Errico are Rock & Roll Hall of fame inductees and R&B Pioneer Award Winners.

Jerry Martini - The original founder of Sly & the Family Stone; calling upon Sly Stone to become the leader of the first inter-racial, multi-gender major American Band. He has also performed with countless luminaries including Mike Bloomfield, Carlos Santana, Rolling Stone Bill Wymann, Robert Cray, Willie Lomax, Prince, Graham Central Station and Van Morrison. Through the millenial New Years, he, along with Cynthia Robinson and Larry Graham, played with Prince on his 1999/2000 New Years Pay Per View special "Rave Un2 2000" capping "The Jam of the Year" tour taking them worldwide through Europe and the US to over 50 stops. More recently he has been seen on the 2006 Grammy Awards with a cast of all stars in their tribute to Sly & The Family Stone.

Cynthia Robinson - Rock & Roll Hall of Fame inductee, is back on the throne! Cynthia, along with Sly, was part of "Sly and The Stoners" in 1966. Through her years with Sly & The Family Stone, she was notable for being an early, black, female trumpet player in a major American band. In recent years, you would of found her on many stages through the US and Europe. Playing with P-Funk maestro George Clinton, Larry Graham, and Prince to name a few.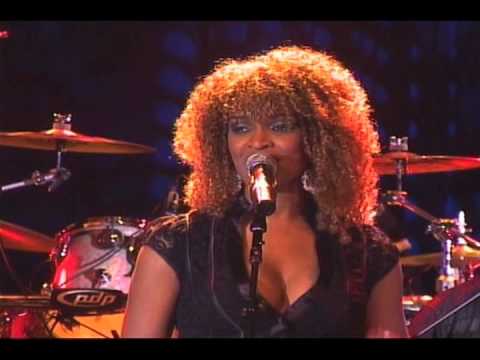 Greg Errico - Rock & Roll Hall of Fame inductee and R&B Foundation "Pioneer Award" recipient, joins fellow founding members, Jerry Martini and Cynthia Robinson, in The Family Stone. Errico's list of credits include his ability to play a broad range of musical styles with such legends as Joe Zawinul (Weather Report), Jerry Garcia Band, Grateful Dead and Santana. Greg's talents as a drummer, songwriter and producer keep him in continuous demand. Other than raising his children in the San Francisco Bay Area, Greg is a partner and managing director of Unity Music LLC for which he has produced several CD's featuring many world class Jazz musicians. He states "fresh spices improve the cooking".

Alex Davis - Accomplished lead singer, drummer, and multi-instrumentalist, has done just about everything there is to do in the music industry. Starting out in the early 70s with (at that time) local funksters "The Ohio Players" as a sub, Alex has toured or performed all over the world. Bringing the spirit of the Family Stone to life is Alex's passion.
Trina Johnson was born and raised in Kansas City, Missouri where she studied Voice Performance and Theater at the UMKC Conservatory of Music. She has appeared on show such as the Grammy Award, Oprah, The American Music Awards, and has also graced the stage with great entertainers from Barbra Streisand to MC Hammer.

Blaise Sison - Bassist and musical director who has been working with Jerry Martini for twenty years he brings the funk to the bass and the music of The Family Stone.

Nate Wingfield - An accomplished guitarist, early on with sessions at Sigma Sound with the famous R&B producers/songwriters Gamble & Huff.

Keeping the legacy true to its original sound and raw funk groove, these Everyday People will leave you Taken Higher. They present a set of their classic hits like: 'I Want to Take You Higher', 'Everyday People', 'Thank You Falettinme Be Mice Elf Agin', 'Dance To The Music', 'Hot Fun In The Summertime', 'Family Affair', 'Sing a Simple Song' and many more.
Support: The Ronnie Scotts All Stars
The Ronnie Scott's All Stars are comprised of some of the greatest talents on the U.K scene, including some of our most regular performers James Pearson (piano), Sam Burgess (bass) and Pedro Segundo (drums)
James Pearson:-
Musical Director at Ronnie Scott's and the owner of a ferocious piano technique coupled with a sense of musicality rarely heard, James Pearson is one of the most exciting musicians to have emerged from the U.K in the last 25 years. After working with him, the late jazz legend Sir John Dankworth declared: "James Pearson is an exceptionally gifted artist. His masterful playing makes him head and shoulders above the rest of his contemporaries. He shows signs of true greatness".
Sam Burgess:-
Double Bass Despite only being in his early 30's, already Sam is a stalwart of the UK jazz scene. As well as appearing on numerous film soundtracks such as 'Bridget Jones's Diary' and 'Hannibal'. Sam's thumping, pounding, relentlessly driving bass lines have been heard accompanying the likes of Bob James, Billy Kilson, Gary Novak, Joe Lock, Dave Kekowski, Guy Barker, Dave O'Higgins, Pete King, Gareth Williams, Claire Martin, Jim Mullen, Alan Barnes, Tim Whitehead, John Horler, Gwyneth Herbert, John Dankworth, The BBC Big Band and Robbie Williams.
Pedro Segundo:-
At 22 years old Pedro Segundo, Portuguese drummer joins the James Pearson Trio at Ronnie Scott's Jazz Club.
Born and raised in Lisbon, picked up the drums seriously at the age of eight starting studying classical percussion a year later. In June 2011 he graduates from Guildhall School of Music and Drama in Timpani and Classical Percussion. His musical ability combines a blend of styles creating a unique sound on the drum set. He has played regularly with Dennis Rollins, Femi Temowo, Mário Franco, Cleveland Watkiss and many other artists touring in festivals all around the globe.
Other regular performers include:
Dave Ohm (drums), Natalie Williams (vocals), Alex Garnett (sax), Nigel Price (guitar), Steve Rushton (drums), Polly Gibbons (vocals), Alistair White (trombone), Gary Baldwin (hammond), Al Cherry (guitar), Matt Home (drums), Alan Barnes (sax), Ralph Salmins (drums), Arnie Somogyi (bass), Mark Smith (bass), James Nisbet (guitar), Pete Long (sax), Gerard Presencer (Trumpet), Dave O'Higgins (sax), Alec Dankworth (bass), Steve Fishwick (trumpet) and others...
To find out more, please go to:
www.myspace.com/thejamespearsontrio