Booking now closed, a few tickets still left on the door.
Marius Neset, tsax, ssax, compositions, Espen Berg, piano, Petter Eldh, bass, Gard Nilssen, dr, Jova Pavlovic, acc, Hanna Paulsberg, tsax, Peter Fuglsang, asax, Eirik Hegdal, sax, Erik Eilertsen, trumpet, Eivind Lonning, trumpet, Oyvind Brakke, trombone, Erik Johannessen, trombone, Daniel Herskedal, tuba, David Solheim, sound design
"Marius Neset and Trondheim Jazz Orchestra played the best concert ever… never has there been so many superlatives for someone supposed to describe the concert in words. But this can't be described in words, only be experienced." Roald Helgheim, Dagsavisen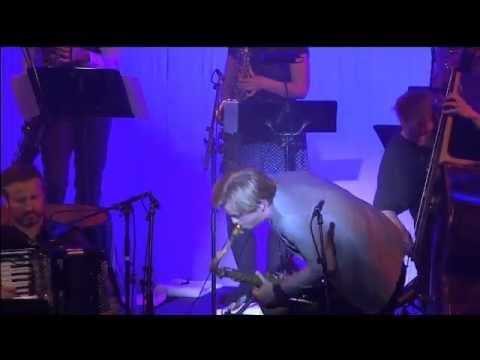 The Trondheim Jazz Orchestra is widely recognised as one of the most important and creative jazz ensembles in Europe and, since its formation in 1999, has seen some of Norway's most famous jazz musicians pass through its ranks. With a flexible line up that changes from project to project, the ensemble has worked with such international luminaries as Chick Corea, Pat Metheny, Stian Westerhus, Joshua Redman, Erlend Skomsvoll and Ståle Storløkken.
In the summer of 2014 they will be presenting their newest and perhaps most highly acclaimed project featuring the sensational Norwegian born/Copenhagen based saxophonist and composer Marius Neset who, since releasing his debut album Golden Xplosion in April 2011, has become one of the most talked about newcomers on the European jazz scene. Described by Terje Mosnes (Dagbladet) as "the most talented Norwegian saxophonist since Jan Garbarek," his performances showcase exemplary technique, energetic creativity, imagination and virtuosity on tenor and soprano saxophones, as well as his brilliance as a composer of intricate, compelling music.
For this project, Neset takes the reins as artistic director of The Trondheim Jazz Orchestra and together they perform a range of work written and recorded by the saxophonist and expanded to fit the 11-piece ensemble.
QUOTES:
"Marius Neset got Trondheim Jazz Orchestra to exceed themselves. That's a rare achievement […] The concert was a success from the beginning to the end […] Neset is a musician with a rare energy, that infected all the 11 other musicians in the band. He played a lot of amazing solos... The highlight of Molde Jazz so far." Trygve Lundemo, Adresseavisen
"The Wizard from Os … Neset is a composer that writes complex music, which the musicians played really great" Jan Granlie, Jazznytt
"The concert was full of high expectations. These expectations where fulfilled, and more than that. […] This concert gave goose bumps […] Neset delivers musically, compositionally and choreographes on a high international level. This concert will go down in the history books as one of the classic ones." Jan Inge Tangen, Fire Flate
Support: The Ronnie Scotts All Stars
The Ronnie Scott's All Stars are comprised of some of the greatest talents on the U.K scene, including some of our most regular performers James Pearson (piano), Sam Burgess (bass) and Pedro Segundo (drums)
James Pearson:-
Musical Director at Ronnie Scott's and the owner of a ferocious piano technique coupled with a sense of musicality rarely heard, James Pearson is one of the most exciting musicians to have emerged from the U.K in the last 25 years. After working with him, the late jazz legend Sir John Dankworth declared: "James Pearson is an exceptionally gifted artist. His masterful playing makes him head and shoulders above the rest of his contemporaries. He shows signs of true greatness".
Sam Burgess:-
Double Bass Despite only being in his early 30's, already Sam is a stalwart of the UK jazz scene. As well as appearing on numerous film soundtracks such as 'Bridget Jones's Diary' and 'Hannibal'. Sam's thumping, pounding, relentlessly driving bass lines have been heard accompanying the likes of Bob James, Billy Kilson, Gary Novak, Joe Lock, Dave Kekowski, Guy Barker, Dave O'Higgins, Pete King, Gareth Williams, Claire Martin, Jim Mullen, Alan Barnes, Tim Whitehead, John Horler, Gwyneth Herbert, John Dankworth, The BBC Big Band and Robbie Williams.
Pedro Segundo:-
At 22 years old Pedro Segundo, Portuguese drummer joins the James Pearson Trio at Ronnie Scott's Jazz Club.
Born and raised in Lisbon, picked up the drums seriously at the age of eight starting studying classical percussion a year later. In June 2011 he graduates from Guildhall School of Music and Drama in Timpani and Classical Percussion. His musical ability combines a blend of styles creating a unique sound on the drum set. He has played regularly with Dennis Rollins, Femi Temowo, Mário Franco, Cleveland Watkiss and many other artists touring in festivals all around the globe.
Other regular performers include:
Dave Ohm (drums), Natalie Williams (vocals), Alex Garnett (sax), Nigel Price (guitar), Steve Rushton (drums), Polly Gibbons (vocals), Alistair White (trombone), Gary Baldwin (hammond), Al Cherry (guitar), Matt Home (drums), Alan Barnes (sax), Ralph Salmins (drums), Arnie Somogyi (bass), Mark Smith (bass), James Nisbet (guitar), Pete Long (sax), Gerard Presencer (Trumpet), Dave O'Higgins (sax), Alec Dankworth (bass), Steve Fishwick (trumpet) and others...
To find out more, please go to:
www.myspace.com/thejamespearsontrio