Booking now closed, a few tickets still left on the door.
One of the world's most exciting modern drummers appears exclusively at Ronnie Scott's for 1 night only.
LINE UP CONFIRMED: Chris Dave – drums, Braylon Lacy – bass, James Francies – Hammond organ/Keys, Marcus Strickland - Sax
"Chris Dave is probably the most dangerous drummer alive. He is totally reinventing just what you can do with drums." – ?uestlove
Chris Dave has been around the world and back playing for and recording with some of music's most established and iconic artists including: Adele, Maxwell, D'Angelo, Beyoncé , Kenny Garrett, Terrence Blanchard, Wynton Marsalis, Pat Metheny, Donald Brown, MF Doom, Bilal, Lupe Fiasco, Me'shell N'Degeocello, Lalah Hathaway, Ledisi, Sonny Rollins, the Robert Glasper Trio/Experiment, Pharoahe Monche, TLC, Toni Braxton, Kevin Mahogany, Kim Burrell, Mos Def, Erykah Badu, Common, Talib Kweli, Jill Scott, A Tribe Called Quest, Mint Condition (Janet Jackson World Tour), Michelle Williams, Dianne Reeves, Sa Ra, Geri Allen, Yolanda Adams, Soulful Symphony, Reginald Veal and more.
Born in Houston, Texas, drummer Chris Dave, also known as Chris "Daddy" Dave, began his music career in the late 1980s. Chris Dave is one of the most revered and in demand musicians of his generation. His eccentric approach to the drum set and his ability to adapt to any musical setting, whether jazz, hip-hop or R&B, has put him in a category of his own.
Chris Dave got his start, like many musicians, playing in church. Although gospel music was an important facilitator of Chris Dave's early style development, he credits jazz music as his strongest influence. As a teenager, he was exposed to jazz legends like Miles and Coltrane when listening to music with his father. Chris Dave blossomed on the drums, eventually graduating from Houston's prestigious High School for the Performing and Visual Arts.
He studied at Howard University in Washington D.C. where he met acclaimed producers and former Prince associates Jimmy Jam and Terry Lewis. Through this relationship, Chris Dave began working with R&B band Mint Condition and the rest as they say, is history.
As the 1990s came to an end and the 2000s began, Chris Dave's assent as one of the greatest drummers in the world began to take shape. His open interpretations of rhythm and his ability to conform to each musical setting differently led to many new opportunities and platforms for Chris Dave to show his evolution to the world. Recent projects include his contribution as the featured drummer on Adele's Grammy nominated album 21 and Maxwell's Grammy winning album BLACKsummers'night.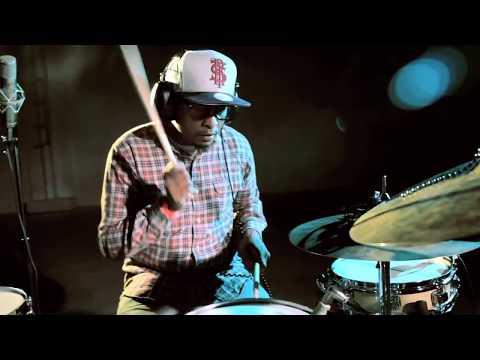 Support: The Ronnie Scotts All Stars
The Ronnie Scott's All Stars are comprised of some of the greatest talents on the U.K scene, including some of our most regular performers James Pearson (piano), Sam Burgess (bass) and Pedro Segundo (drums)
James Pearson:-
Musical Director at Ronnie Scott's and the owner of a ferocious piano technique coupled with a sense of musicality rarely heard, James Pearson is one of the most exciting musicians to have emerged from the U.K in the last 25 years. After working with him, the late jazz legend Sir John Dankworth declared: "James Pearson is an exceptionally gifted artist. His masterful playing makes him head and shoulders above the rest of his contemporaries. He shows signs of true greatness".
Sam Burgess:-
Double Bass Despite only being in his early 30's, already Sam is a stalwart of the UK jazz scene. As well as appearing on numerous film soundtracks such as 'Bridget Jones's Diary' and 'Hannibal'. Sam's thumping, pounding, relentlessly driving bass lines have been heard accompanying the likes of Bob James, Billy Kilson, Gary Novak, Joe Lock, Dave Kekowski, Guy Barker, Dave O'Higgins, Pete King, Gareth Williams, Claire Martin, Jim Mullen, Alan Barnes, Tim Whitehead, John Horler, Gwyneth Herbert, John Dankworth, The BBC Big Band and Robbie Williams.
Pedro Segundo:-
At 22 years old Pedro Segundo, Portuguese drummer joins the James Pearson Trio at Ronnie Scott's Jazz Club.
Born and raised in Lisbon, picked up the drums seriously at the age of eight starting studying classical percussion a year later. In June 2011 he graduates from Guildhall School of Music and Drama in Timpani and Classical Percussion. His musical ability combines a blend of styles creating a unique sound on the drum set. He has played regularly with Dennis Rollins, Femi Temowo, Mário Franco, Cleveland Watkiss and many other artists touring in festivals all around the globe.
Other regular performers include:
Dave Ohm (drums), Natalie Williams (vocals), Alex Garnett (sax), Nigel Price (guitar), Steve Rushton (drums), Polly Gibbons (vocals), Alistair White (trombone), Gary Baldwin (hammond), Al Cherry (guitar), Matt Home (drums), Alan Barnes (sax), Ralph Salmins (drums), Arnie Somogyi (bass), Mark Smith (bass), James Nisbet (guitar), Pete Long (sax), Gerard Presencer (Trumpet), Dave O'Higgins (sax), Alec Dankworth (bass), Steve Fishwick (trumpet) and others...
To find out more, please go to:
www.myspace.com/thejamespearsontrio