Booking now closed, a few tickets still left on the door.
The most awarded vocal group in history (10 Grammy Awards, 10 Dove Awards, a Soul Train Award, and more) celebrates their 25th Anniversary!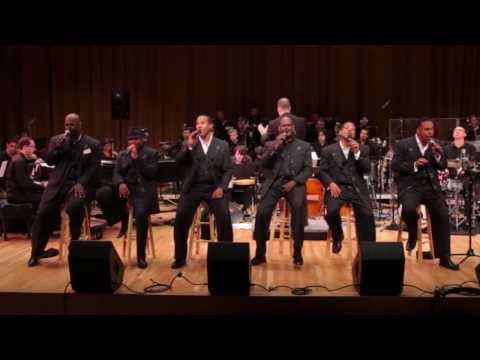 Take 6 (Claude McKnight, Mark Kibble, Joel Kibble, Dave Thomas, Alvin Chea and Khristian Dentley), heralded by Quincy Jones as the "baddest vocal cats on the planet!', is the quintessential a cappela group and model for vocal genius. Six virtuosic voices united in crystal clear harmony, against a backdrop of syncopated rhythms, innovative arrangements, and funky grooves that bubble into an intoxicating brew of gospel, jazz, R&B, and pop.
With praise from such luminaries as Ray Charles, Stevie Wonder, Brian Wilson, Ella Fitzgerald and Whitney Houston, the multi-platinum selling sextet has toured across the globe, collaborated across genres, and is recognized as the pre-eminent a capella group in the world.
With the popularity of televised vocal competitions such as the explosive a cappella show The Sing Off and the mania over singing driven comedy-dramas like Glee and Smash, Take 6 is the original torchbearer. Two major recent events reminded everyone of this as Take 6 triumphed among a gathering of stars including Celine Dion, Lionel Richie, Justin Timberlake, Stevie Nicks, Ne-Yo, and more.
At Walmart's 50th Anniversary celebration, Take 6 captivated the audience with their rendition of the Louis Armstrong hit, What A Wonderful World. Showing the global reach of this phenomenal group, Take 6 closed the show with Ladysmith Black Mambazo to a standing ovation!
Two weeks later at the behest of legendary Producer Phil Ramone, Take 6 thrilled a sold-out audience at the Songwriters Hall of Fame Awards performing with and honoring legendary singer-songwriter Ben E. King on his classic "Stand By Me." As a group that knows no musical bounds, they then brought the house down with their tribute to folk icon Woody Guthrie with This Land Is Your Land.

Take 6 has come a long way from their days at Huntsville, Alabama's Oakwood College where McKnight formed the group as The Gentleman's Estate Quartet in 1980. When tenor Mark Kibble heard the group rehearsing in the dorm bathroom, he joined in the harmonies and performed on stage that night.
When Mervyn Warren joined shortly afterward, they took the name Alliance. Yet, when they signed to Reprise Records/Warner Bros. in 1987, they found that there was another group with the same name, so they became Take 6. Says McKnight: "Take 6 was all about a democratic process of sitting in a room together and throwing a couple of hundred names at each other and Take 6 was the one that got the most yay votes [laughing.] It pretty much was a play on the Take 5 jazz standard and the fact that there are six of us in the group, so it became Take 6."
Their self-titled debut CD won over jazz and pop critics, scored two 1988 Grammy Awards, landed in the Top Ten Billboard Contemporary Jazz and Contemporary Christian Charts, and they've never slowed down. What makes the music and the group last this long? The answers are direct and simple: faith, friendship, respect, and love of music. Such qualities garnered them awards beyond musical category - a Soul Train Award and two NAACP Image Award nominations.
From their exceptional live performances to their recordings, these qualities remain at the heart of the Take 6 phenomenon.One, Take 6's recent recording on Shanachie, is notable for three reasons. First, it's the group's return to their spiritual heritage. Second, it is their first project without Cedric Dent, who retired from full-time touring with the group last year. "Cedric had taken a position with MTSU (Middle Tennessee State University in Murfreesboro, TN) which didn't allow him to go out on the road during the school year and kind of limited him only to the weekends and that's if it worked for the schedule," says Kibble. "So we decided it was best to find a person to step in and cover him when he couldn't be there. Third, it introduces Khristian Dentley as a full-time permanent member of Take 6. Kibble continues, "We actually had a pool of three people we used over the years. Khristian was one of those people called on to step in. He did it beautifully and had a lot of energy. In standing in for Cedric, we were able to learn his personality and he was able to learn the music. After 7 years, Cedric decided to go full time into academia and when he did, Khristian was already primed to step in behind him.
"As Take 6 celebrates their 25th Anniversary with a brand new show, they'll share the memories in the music of the past 25 years as well as reveal what the future holds!
Support: The Ronnie Scotts All Stars
The Ronnie Scott's All Stars are comprised of some of the greatest talents on the U.K scene, including some of our most regular performers James Pearson (piano), Sam Burgess (bass) and Pedro Segundo (drums)
James Pearson:-
Musical Director at Ronnie Scott's and the owner of a ferocious piano technique coupled with a sense of musicality rarely heard, James Pearson is one of the most exciting musicians to have emerged from the U.K in the last 25 years. After working with him, the late jazz legend Sir John Dankworth declared: "James Pearson is an exceptionally gifted artist. His masterful playing makes him head and shoulders above the rest of his contemporaries. He shows signs of true greatness".
Sam Burgess:-
Double Bass Despite only being in his early 30's, already Sam is a stalwart of the UK jazz scene. As well as appearing on numerous film soundtracks such as 'Bridget Jones's Diary' and 'Hannibal'. Sam's thumping, pounding, relentlessly driving bass lines have been heard accompanying the likes of Bob James, Billy Kilson, Gary Novak, Joe Lock, Dave Kekowski, Guy Barker, Dave O'Higgins, Pete King, Gareth Williams, Claire Martin, Jim Mullen, Alan Barnes, Tim Whitehead, John Horler, Gwyneth Herbert, John Dankworth, The BBC Big Band and Robbie Williams.
Pedro Segundo:-
At 22 years old Pedro Segundo, Portuguese drummer joins the James Pearson Trio at Ronnie Scott's Jazz Club.
Born and raised in Lisbon, picked up the drums seriously at the age of eight starting studying classical percussion a year later. In June 2011 he graduates from Guildhall School of Music and Drama in Timpani and Classical Percussion. His musical ability combines a blend of styles creating a unique sound on the drum set. He has played regularly with Dennis Rollins, Femi Temowo, Mário Franco, Cleveland Watkiss and many other artists touring in festivals all around the globe.
Other regular performers include:
Dave Ohm (drums), Natalie Williams (vocals), Alex Garnett (sax), Nigel Price (guitar), Steve Rushton (drums), Polly Gibbons (vocals), Alistair White (trombone), Gary Baldwin (hammond), Al Cherry (guitar), Matt Home (drums), Alan Barnes (sax), Ralph Salmins (drums), Arnie Somogyi (bass), Mark Smith (bass), James Nisbet (guitar), Pete Long (sax), Gerard Presencer (Trumpet), Dave O'Higgins (sax), Alec Dankworth (bass), Steve Fishwick (trumpet) and others...
To find out more, please go to:
www.myspace.com/thejamespearsontrio