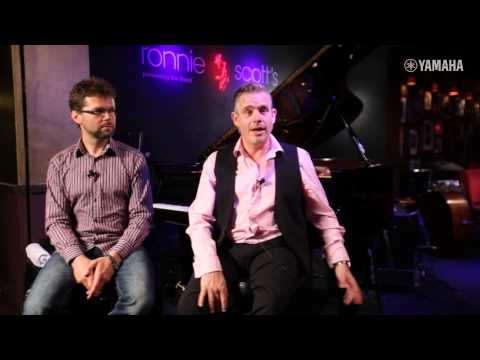 Ronnie Scott's Jazz club gets into the groove with Yamaha pianos
London's legendary Ronnie Scott's jazz club, located in the heart of Soho, has become the latest high profile venue to select and install a Yamaha CF series grand piano.
The move coincides with both Chick Corea and Hiromi selecting Yamaha CF grand pianos for performances at Cadogan Hall and the Royal Festival Hall, and is the latest in a series of high profile CF installations throughout Europe, including London's Royal Festival Hall and the nearby Queen Elizabeth Hall, Abbey Road Studios, Théâtre des Champs-Élysées, Paris Berlin Philharmonie Hall and Opera Filharmonia Bialystok, Poland.
The CF6 piano was selected for Ronnie's following an exhaustive evaluation process conducted at Yamaha's European HQ in Hamburg by the club's Musical Director James Pearson and acclaimed jazz pianist Tom Cawley. The duo were presented with a range of CF6s to play each voiced and toned differently.
James Pearson comments, "We were given the choice of five or six pianos, all of which had completely different characteristics and were prepared slightly differently. They were all glorious and we moved them around the selection room to hear them with a different acoustic. It was very important to consider how the piano would sound in the club, which has a dry acoustic. The colours and range of the CF6 are very strong: you can get a hard and aggressive sound and a wonderful gentle sound and timbre. The CF6 is 6'11", so it's not a concert grand, but it has a richness I'd associate with a much bigger instrument. It's also incredibly versatile: it can be brightened or softened and regulated very easily. Durability is a vital factor as the piano at Ronnie's can be played by three or four pianists every single day, and it's also regularly moved around. The CF6 copes with this brilliantly."
Founded in London's West End in 1959 by saxophonist Ronnie Scott as a place where local musicians could meet and play, the club eventually relocated to a buzzing Soho and is now arguably the world's most famous jazz club, attracting capacity audiences almost every night of the week. Ronnie Scott's early days saw artists of the stature of Sarah Vaughn, Count Basie and Miles Davis performing. The club continues to present the biggest names in jazz music, including, most recently, Wynton Marsalis, Cassandra Wilson, Jamie Cullum, Hiromi, Jeff Beck, Michele Le Grand and Joe Bonamassa.
Always at the cutting edge, the club is also renowned for being the first place to catch hotly tipped rising stars, visionary artists and the next big thing.
Yamaha's latest CF series pianos were introduced in 2009 and are proving highly popular with venues and concert halls all over the world. The CF6 can be characterised by Yamaha's revered reputation for tonal clarity, tremendously deep and rich bass, open broad sonority and a long, singing sustain. The instrument draws on Yamaha's exemplary heritage with pianists of the highest calibre.