Fantastic Free opportunity for students 12-17 years old - BIG BAND IN A DAY!
posted Monday 23rd April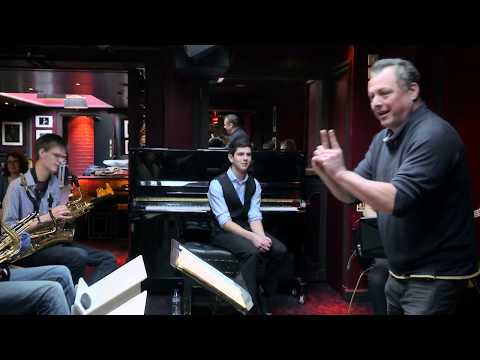 (play the video above for an idea of what to expect!)
*PLEASE NOTE WE ARE CURRENTLY ESPECIALLY IN NEED OF TROMBONISTS/BASS PLAYERS & TENOR/BARITONE SAX PLAYERS. OTHER INSTRUMENTS ARE WELL SUBSCRIBED BUT PLEASE DO GET IN TOUCH AND FILL OUT A FORM SO WE CAN KEEP YOU ON FILE FOR A SLOT AT THE EARLIEST AVAILABLE SESSION.
PLEASE CLICK HERE TO DOWNLOAD AN APPLICATION FORM
Ronnie Scott's Club presents … "Big Band in a Day!"
Ronnie Scott's invites in young musicians to a free one day workshop in which they will be formed into a Jazz Big band and will perform two pieces on the stage at the club that evening.
- Students would be expected to be able to play to grade 5 standard. Ronnie Scott's may be able to help provide some instruments.
- Instruments needed: piano, bass, drums, saxophones, trumpets, trombones, guitar, singer (possibly)
Timings: start at 12pm with tuition in the upstairs bar and running till performance time in the main club room at 7pm. All will be fed a lunch and there will be regular breaks throughout the day.
Parents/guardians will be able to witness the day time tutorials and evening performance.
PLEASE CLICK HERE TO DOWNLOAD AN APPLICATION FORM