Booking now closed, a few tickets still left on the door.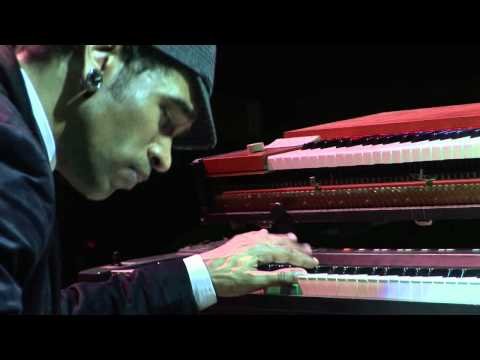 *PLEASE NOTE ON FRIDAY AND SATURDAY DOORS @ 10.30pm SHOW THERE WILL BE A FEW TABLES CLEARED TO MAKE SPACE FOR STANDING ROOM. WHEN BOOKING YOUR TICKETS, STANDING ROOM TICKETS APPEAR AS '*STANDARD ENTRY' AND ARE PRICED AT £20
Soulive has never made any bones about what they do best; it's right there in their name. Since forming in 1999, the trio of guitarist Eric Krasno, drummer Alan Evans and keyboardist Neal Evans has carried the torch for the soul-jazz organ trio—that venerable, funky institution pioneered by the likes of Jimmy Smith, Brother Jack McDuff and Groove Holmes in the late '60s. Rest assured, when the Evans brothers first brought Kraz by their Woodstock studio, there was plenty of old vinyl spread out on the floor.
In their 13 years together, Soulive has followed the muse in the direction of hip-hop, R&B, blues and rock, collaborating with the likes of Chaka Khan, Dave Matthews, Talib Kweli, John Scofield, Derek Trucks, Maceo Parker, Susan Tedeschi, Robert Randolph, Joshua Redman, Kenny Garrett, Fred Wesley, The Roots, Ivan Neville and so many others, even going so far as to record a full album of covers by The Beatles (Rubber Soulive). But, no matter how they push the limits of the organ trio, they always come back to their bread and butter: blistering solos and grooves that don't quit.
Their latest, a four-track EP entitled, SPARK, deserves a place on your record shelf right between Booker T. and a bottle of some damn good single-malt. Recorded over a day and a half with saxophonist/flautist Karl Denson (The Greyboy Allstars, Karl Denson's Tiny Universe), the record captures the smoky vibe of early-'70s-era CTI Records releases by the likes of Freddie Hubbard, Grover Washington Jr. and George Benson. It's the stuff Denson grew up on. "I'm older than the Soulive guys," he says. "When I heard those records being sampled back in the late 80s, early 90s, popping up in clubs when I was over in Europe touring with Lenny Kravitz, that's what really prepared me for this whole thing we've been doing for the last 20 years. It was a natural progression for me to finally do something in the CTI vein."
Each tune was ultimately just a vehicle for the musicians' playing, so, sticking to this formula, the quartet used very few overdubs. "Back in that era," Krasno explains, "you bought a piece of vinyl and it had two tracks on either side. The grooves were kind of dark but really open and each musician got a chance to breathe." Denson continues: "SPARK is really about the playing, less about the tunes. It's the four of us collectively getting back to more of a jazzier thing than we'd done in recent memory."
The first side opens with Yusef Lateef's sultry "Nubian Lady," featuring Denson on flute. It was a mutual love for Lateef that brought the quartet together to begin with—Kraz having studied with the legend and Denson having idolized his records. The laid-back tempo lets the group simmer on the theme until Kraz decides to slice the whole thing open with some Middle Eastern fretwork, leaving Karl to pick up the pieces. Denson describes the sound as "Something a little more chilled out but funky at the same time." "Povo" is a perfect evocation of the era, first recorded by Freddie Hubbard on CTI in 1972, featuring some of Kraz's most sinewy lines and a caterwauling climax on tenor from Denson. When the two lay out, the Evans brothers remind the listener why an organ and a drum kit have always been plenty good for funky jazz. "We've always loved James Brown and music that's going to make you groove," says Krasno. "But there's so much more vocabulary from jazz that you can put in it." Art Farmer would have agreed. The band's rendition of his 1972 tune "Soulsides" slips plenty of ideas into the deep pocket, putting Neal Evans out front on piano.
"Spark," the only original song on the record, was written in homage to legendary soul-jazz guitarist Melvin Sparks, who passed away only days before Soulive entered the studio. Known for his fleet fingers and deft sense of the blues, Sparks made his name backing organists like McDuff and Dr. Lonnie Smith. Krasno grew up listening to Sparks play at a regular gig in New Canaan, CT, and credits the guitarist with inspiring many of his own sensibilities. When Denson asked Sparks to open for the Greyboy Allstars' first East Coast tour in 1994, it revived his career. "We totally got along and had a great time over the years," says Denson. Sparks joined Karl Denson's Tiny Universe to record Dance Lesson No. 2 in 2001 and "just annihilated it. He was a great cat and a total musical mentor." So, it was with sadness that the four musicians collectively penned the tune and with reverence that they perform the slinky strut, while dedicating the EP to his memory. Denson eulogizes on both flute and tenor while Krasno's tone impeccably channels the musician he calls, "one of the great guitarists of our time and the coolest dude I knew."
Support: The Ronnie Scotts All Stars
+ support tonight: The Ronnie Scotts All Stars with Special Guest vocalists Emma Smith (Mon) and Natalie Williams (Tues)
Monday's band line up: Alex Garnett (tenor sax), James Pearson (piano), Sam Burgess (bass) and Ed Richardson (drums).
Tuesday's band line up: is Alex Garnett (tenor sax), James Pearson (piano), Sam Burgess (bass) and Chris Higginbottom
The Ronnie Scott's All Stars are comprised of some of the greatest talents on the U.K scene, including some of our most regular performers James Pearson (piano), Sam Burgess (bass) and Pedro Segundo (drums)
James Pearson:-
Musical Director at Ronnie Scott's and the owner of a ferocious piano technique coupled with a sense of musicality rarely heard, James Pearson is one of the most exciting musicians to have emerged from the U.K in the last 25 years. After working with him, the late jazz legend Sir John Dankworth declared: "James Pearson is an exceptionally gifted artist. His masterful playing makes him head and shoulders above the rest of his contemporaries. He shows signs of true greatness".
Sam Burgess:-
Double Bass Despite only being in his early 30's, already Sam is a stalwart of the UK jazz scene. As well as appearing on numerous film soundtracks such as 'Bridget Jones's Diary' and 'Hannibal'. Sam's thumping, pounding, relentlessly driving bass lines have been heard accompanying the likes of Bob James, Billy Kilson, Gary Novak, Joe Lock, Dave Kekowski, Guy Barker, Dave O'Higgins, Pete King, Gareth Williams, Claire Martin, Jim Mullen, Alan Barnes, Tim Whitehead, John Horler, Gwyneth Herbert, John Dankworth, The BBC Big Band and Robbie Williams.
Pedro Segundo:-
At 22 years old Pedro Segundo, Portuguese drummer joins the James Pearson Trio at Ronnie Scott's Jazz Club.
Born and raised in Lisbon, picked up the drums seriously at the age of eight starting studying classical percussion a year later. In June 2011 he graduates from Guildhall School of Music and Drama in Timpani and Classical Percussion. His musical ability combines a blend of styles creating a unique sound on the drum set. He has played regularly with Dennis Rollins, Femi Temowo, Mário Franco, Cleveland Watkiss and many other artists touring in festivals all around the globe.
Other regular performers include:
Dave Ohm (drums), Natalie Williams (vocals), Alex Garnett (sax), Nigel Price (guitar), Steve Rushton (drums), Polly Gibbons (vocals), Alistair White (trombone), Gary Baldwin (hammond), Al Cherry (guitar), Matt Home (drums), Alan Barnes (sax), Ralph Salmins (drums), Arnie Somogyi (bass), Mark Smith (bass), James Nisbet (guitar), Pete Long (sax), Gerard Presencer (Trumpet), Dave O'Higgins (sax), Alec Dankworth (bass), Steve Fishwick (trumpet) and others...
To find out more, please go to:
www.myspace.com/thejamespearsontrio