Booking now closed, a few tickets still left on the door.
Line up confirmed: Debbie Jones - Vocals/acoustic guitar, Justin Randall - Piano/vocals, Andrew Jones - Guitar/Vocals, Bryan Hargreaves - Drums/vocals & Ollie Collins - Bass guitar/vocals

Tipitina deliver their own unique take on the blues, barrelhouse, boogie and gospel of New Orleans, in the footsteps of Professor Longhair, Dr. John, James Booker, Fats Domino and Allen Toussaint. Following on from their acclaimed debut album 'I Wish I Was In New Orleans', Tipitina are now on a roll with 'Taking Care of Business', recorded at 2011's Birmingham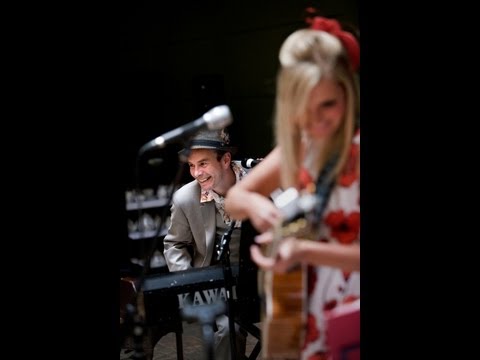 International Jazz & Blues Festival supported by Colmore BID. Already the House Full signs are going up at Ronnie Scotts and elsewhere, encouraged by uniformly enthusiastic album reviews:
"A wonderful CD, it superbly captures how this incredible band sound au naturelle...phenomenal 10/10 [Blues In Britain].
"A joyous ride through up-tempo feel-good rockers, gospel-tinged ballads and crowd-pleasing sing-alongs. They're a barnstorming live act, few do this with such conviction. [Rock 'N' Reel]
"Tipitina seem to tick just about all the boxes in the stack" [Blues Matters]
"Tipitina, already recognised by thousands of fans, can bring any crowd to its feet"
[The Jazz Rag]
"Tipitina takes us to a dance at Hotel Du Vin in Birmingham with this live recording. This is music that breathes New Orleans, feels New Orleans and takes you to New Orleans - and that is because Tipitina does it so well and it is alive with love. Besides this they are all fine musicians that hit the right tone and atmosphere. Debbie Jones has got a strong and warm voice, Justin Randall is a skilled pianist, Andy Jones a driving guitarist with a mellow jazzy tone, Tom Hill a great bass player and Nick Millward makes it all come together. What dominates the record is of course the piano as they choose material from the songbooks of Professor Longhair, Huey Smith and Dr. John as well as from the pen of Randy Newman and their own material. Randy´s Louisiana 1927 is a great song where Tom adds a nice solo on bass to give it that extra touch. The Fess Medley is not so good as everyone gets in the way of each others and it turns out quite messy. That Debbie has a background in choir singing is evident. Safe and sound when it comes to hitting the right tones while listening carefully to those around her. She is assissted by four colleagues from the choir and they back her well. The final number on the record is a piano instrumental Sweet Louisiana which takes us back to the early 1900s and a bar at the break of day when the staff sweep the floor and put the chairs on the tables while a lonely pianist hits the 88´s.
A nice end to a fine concert."
[Jefferson Magazine, Sweden]