Booking now closed, a few tickets still left on the door.
Manu Katché - drums, James Watson - piano/Hammond B3, Tore Brunborg - sax, Luca Aquino - trumpet & Ellen Laurent Vernerey - bass
Both as a live and studio musician Manu Katché is one of the greatest drummers of our time. Possessed of a unique playing style, it's because of his distinct mixture of elegance and power that, time and again, musicians and producers have sought his services. As Peter Gabriel's drummer of choice Katché was hugely influential on his biggest hit "Sledgehammer" and, more recently, as the focal point of Gabriel's live band on his "Back to front" world tour. Katché's long-running collaboration with Sting is also a key aspect of his career, again his distinctive style lending itself to Sting's biggest hit "Englishman in New York". A coincidence? Certainly not!
It would take a long time to recount the list of pop greats whom Manu Katché has worked with, however his works in jazz are of equal importance, the most well known of these was as a long time member of the Jan Garbarek Group.
Katché also hosted the television music show "One Shot Not" on Arte TV channel, and it was here he met and played with countless musicians from across the musical spectrum.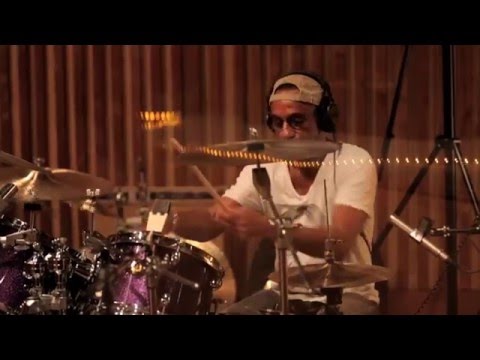 Katchè's work as a composer and bandleader is an integral part of his career. He has released six internationally acclaimed albums under his own name, his music distinguished by his sense for precise, melodic, catchy themes, it's unique flow and deep sense of atmosphere. It is testament to Manu Katché's genius that both these sides of his musical personality – the outstanding drummer and sound-magician, and the composer and bandleader - complement each other so perfectly.
The sixth album is called « Unstatic » and the new thing on this new record is the fact that after two albums without bassist, he adds a bassist (Ellen Andrea Wang) to his band (Tore Brunborg on sax, Jim Watson on piano and hammond, Luca Aquino on trumpet).
Manu Katché — "Unstatic"
Manu Katché's previous quartet recording at the New Morning in 2014 was noticeable for the absence of a bassist. And the surprise here is that for his new album Unstatic the drummer-star has gone into the studio with a new group, enhanced by the addition of double bass player Ellen Andrea Wang. The new opus, an immensely enjoyable affair, reveals a suite of soundscapes whose colours form a soft blend: no disturbing fits and starts here, even if the sonic scenery often has a very contagious rush of energy. Consisting of eleven titles, each an immediately memorable invitation for us to join them on their journey, the album entwines us with the skilful spinning of a whirling dervish. And not only does this procure intense pleasure: the new record reveals the drummer-leader to be a composer of growing serenity.
Ellen Andrea Wang imposes her flexible authority right from the very first title. Introducción, aptly named, announces delights to come by introducing a warm, rolling rumba into the proceedings. The second piece, Unstatic, slaps into an elastic groove, a perpetual motion that alternates a jazz pulse and funky metrics, interspersed with pockets of silence into which the leader slips his characteristic punctuation with exciting blazes of rhythm. The theme of Flame & Co is heady from its debuts, again stated on the double bass, and decidedly essential. It prefigures one of the record's most visual titles: in the pure cinematography of City, the drums establish blatant tension, an urgency propelled by the nervous timbre of the snare. It expresses the edgy stress of a feverish metropolis that never sleeps.
A clean fracture brings a halt to the title, leaving us suspended before we discover the sequel: Blossom installs a meditative gospel atmosphere from which an alto saxophone escapes, ringing out like a sermon. The voices of Manu Katché and Ellen Andrea Wang combine towards the end, and they assemble a welcome ostinato in song. Daze Days is no doubt the most moving ballad of the album, overflowing with the vocal qualities of Tore Brunborg's alto saxophone; it reaches out to touch us, like some metal crooner, right in the heart.
The horn's contribution is picked up by wreaths of notes from Luca Aquino's restrained trumpet, sounds that are poised over caressing brushes applied by the tune's composer to provide the imprint of a sure and steady groove. Rolling introduces a hiatus, a parenthesis that does exactly as its title suggests… and rolls alone. A concentrate of elegant, easy listening punctuated by a brief, heady piano phrase that serves as its conducting theme, highlighted by a chorus from Nils Landgren, whose powerful trombone brings density. Ride Me Up begins with a hammered piano, almost a toy, and this is quickly replaced by broad swathes of brass and keyboards crowned with jazzy jabs from the Fender Rhodes.
The piano of Trickle is much more contemplative; it has the gravity of Ravel but is suddenly lit up by lascivious drums bringing in a superb theme: it takes flight only to encounter a brief air pocket provided by the bass. Jim Watson's piano, let loose into liberty as if it were a drunken young horse, unleashes a solo that has bravado without unsettling its rider. Out of Sight, with another introduction from the double bass, provokes delicious expectancy before an insistent after-beat over which the two brass instruments softly embrace like two birds at night. Presentation brings the voyage to a close: in a mellow, lounge-chic atmosphere sustained by a lacy hi-hat, Manu Katché introduces each of his musician-friends to the listener. Like a filmmaker who's more than happy with the outcome of a special screening, Manu escorts us to the door of his theatre of music, hoping to see us again soon. He can rest assured: we'll be coming back often.
Olivier Bride
Support: The Ronnie Scotts All Stars
+ support tonight: The Ronnie Scotts All Stars with Special Guest vocalists Emma Smith (Mon) and Natalie Williams (Tues)
Monday's band line up: Alex Garnett (tenor sax), James Pearson (piano), Sam Burgess (bass) and Ed Richardson (drums).
Tuesday's band line up: is Alex Garnett (tenor sax), James Pearson (piano), Sam Burgess (bass) and Chris Higginbottom
The Ronnie Scott's All Stars are comprised of some of the greatest talents on the U.K scene, including some of our most regular performers James Pearson (piano), Sam Burgess (bass) and Pedro Segundo (drums)
James Pearson:-
Musical Director at Ronnie Scott's and the owner of a ferocious piano technique coupled with a sense of musicality rarely heard, James Pearson is one of the most exciting musicians to have emerged from the U.K in the last 25 years. After working with him, the late jazz legend Sir John Dankworth declared: "James Pearson is an exceptionally gifted artist. His masterful playing makes him head and shoulders above the rest of his contemporaries. He shows signs of true greatness".
Sam Burgess:-
Double Bass Despite only being in his early 30's, already Sam is a stalwart of the UK jazz scene. As well as appearing on numerous film soundtracks such as 'Bridget Jones's Diary' and 'Hannibal'. Sam's thumping, pounding, relentlessly driving bass lines have been heard accompanying the likes of Bob James, Billy Kilson, Gary Novak, Joe Lock, Dave Kekowski, Guy Barker, Dave O'Higgins, Pete King, Gareth Williams, Claire Martin, Jim Mullen, Alan Barnes, Tim Whitehead, John Horler, Gwyneth Herbert, John Dankworth, The BBC Big Band and Robbie Williams.
Pedro Segundo:-
At 22 years old Pedro Segundo, Portuguese drummer joins the James Pearson Trio at Ronnie Scott's Jazz Club.
Born and raised in Lisbon, picked up the drums seriously at the age of eight starting studying classical percussion a year later. In June 2011 he graduates from Guildhall School of Music and Drama in Timpani and Classical Percussion. His musical ability combines a blend of styles creating a unique sound on the drum set. He has played regularly with Dennis Rollins, Femi Temowo, Mário Franco, Cleveland Watkiss and many other artists touring in festivals all around the globe.
Other regular performers include:
Dave Ohm (drums), Natalie Williams (vocals), Alex Garnett (sax), Nigel Price (guitar), Steve Rushton (drums), Polly Gibbons (vocals), Alistair White (trombone), Gary Baldwin (hammond), Al Cherry (guitar), Matt Home (drums), Alan Barnes (sax), Ralph Salmins (drums), Arnie Somogyi (bass), Mark Smith (bass), James Nisbet (guitar), Pete Long (sax), Gerard Presencer (Trumpet), Dave O'Higgins (sax), Alec Dankworth (bass), Steve Fishwick (trumpet) and others...
To find out more, please go to:
www.myspace.com/thejamespearsontrio