Booking now closed, a few tickets still left on the door.
Vincent Herring – alto sax , Eric Alexander – tenor sax, Harold Mabern - piano, Milan Nikolic - bass, Joris Dudli - drums

Classic two night run from first call horn players Alexander and Herring, featuring legendary pianist Harold Maybern and a top rhythm section in Nikolic and Dudli - performing their set in the spirit of Coltrane and Cannonball.
ERIC ALEXANDER BIO
Boasting a warm, finely burnished tone and a robust melodic and harmonic imagination, tenor saxophonist Eric Alexander brings a seasoned veteran's proficiency and poise to his latest recording, Nightlife in Tokyo. As he has on his four previous Milestone albums as a leader, the 34-year-old colossus-on-the-rise approached this new project with an assured and mature musical vision, gracefully sidestepping the novelties and trends that have come to the fore in so much contemporary jazz marketing..... "I'm not consciously trying to do things differently from record date to record date," explains the 34-year-old Galesburg, Illinois native. "I'm just really adhering to formula of assembling good musicians that I'm comfortable playing with, getting quality material--a combination of originals and standards and perhaps some new arrangements on standard tunes--and trying to make the kind of a recording that a jazz fan or musician can put on and enjoy listening to from start to finish."....
Nightlife in Tokyo, which follows tight on the heels of 2002's Summit Meeting (with trumpeter Nicholas Payton), succeeds on all counts. Featuring his longtime recording and performing partners, pianist Harold Mabern and drummer Joe Farnsworth, Nightlife in Tokyo is anchored by the resolute and creative bass playing of the legendary Ron Carter. "If I could play with Ron Carter on every gig I do for the rest of my life, I wouldn't be disappointed," Alexander says. "He is arguably the greatest bass player alive right now, and he's certainly one of my all-time favorites. He has an uncanny ability to direct the music in a subtle way and make it go to places you didn't think it could go. He'll make subtle changes in the feel, the bass line, or the rhythm. In 'Nemesis,' for instance, right at the beginning of my first solo chorus, the bottom almost drops out as he stops in his tracks and then slides up and down the strings and creates this little weird moment in time where everything is suspended. It really influenced the way I played my solo--I found myself playing something entirely different than what I was preparing myself to play. It was a magical moment.".... Nightlife in Tokyo abounds with such exquisite episodes throughout the eight-song program that includes five Alexander originals, the standards "I Can Dream, Can't I?" and "I'll Be Around," and Mabern's compelling minor blues title track.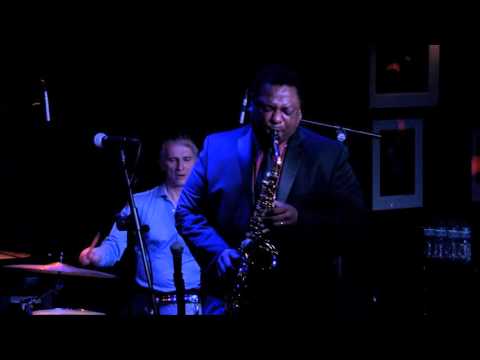 Alexander has maintained a close musical partnership with the veteran pianist for 16 years. Indeed, Mabern has appeared on all of Alexander's albums since 1999's The First Milestone. "He's such a great listener when he's comping," Alexander enthuses, "that he's really able to highlight and emphasize the good things you're doing. He's also very challenging. Sometimes he'll throw something your way, harmonically speaking, that might completely throw off your chain of thought. Over the years he's worked out ways of altering chord progressions in various ways. He's able to insert these devices in various places in any given tune. It really took me years of playing with him to start to understand his thought process and get to a point of reacting naturally to what he was doing. It's very rewarding because once you begin to approach that level of musical communication, it opens up a whole new world of playing.".... Alexander has been exploring new musical worlds from the outset. He started out on piano as a six-year-old, took up clarinet at nine, switched to alto sax when he was 12, and converted to tenor when jazz became his obsession during his one year at the University of Indiana, Bloomington (1986-87). At William Paterson College in New Jersey he advanced his studies under the tutelage of Mabern, Joe Lovano, Rufus Reid, and others. "The people I listened to in college are still the cats that are influencing me today," says Alexander. "Monk, Dizzy, Sonny Stitt, Clifford Brown, Sonny Rollins, Jackie McLean, Joe Henderson--the legacy left by Bird and all the bebop pioneers, that language and that feel, that's the bread and butter of everything I do. George Coleman remains a big influence because of his very hip harmonic approach, and I'm still listening all the time to Coltrane because I feel that even in the wildest moments of his mid- to late-Sixties solos I can find these little kernels of melodic information and find ways to employ them in my own playing."....
During the 1990s, after placing second behind Joshua Redman in the 1991 Thelonious Monk International Saxophone Competition, Alexander threw himself into the whirlwind life of a professional jazz musician. He played with organ trios on the South Side of Chicago, made his recording debut in 1991 with Charles Earland, and cut his first album as leader in 1992 (Straight Up for Delmark). More recordings for Delmark, Criss Cross, and Alfa followed, leading to 1997's Man with a Horn; the 1998 collaborative quartet session with George Mraz, John Hicks, and Idris Muhammad, Solid!; and, that same year, the first recording by One For All, Alexander's ongoing band with Jim Rotondi, Steve Davis, Joe Farnsworth, Peter Washington, and Dave Hazeltine..... By now, Alexander has lost count of how many albums feature his playing; he guesses 60 or 70. While he has garnered critical acclaim from every corner, what has mattered most has been to establish his own voice within the illustrious bop-based jazz tradition.
"There was a point several years ago where I stopped thinking, 'What would Stitt or Trane do on this tune?,'" he says. "I put the horn in my mouth and just played the way that I play, trying to get out the ideas that I had in my head. Although I'm a perfectionist by nature, lately I've been able to be a little more accepting about the way I sound when I play the horn..... "If I'm not mistaken," Alexander concludes, "Joe Farnsworth once told me that Art Blakey used to say, 'I don't care whose instrument I play, I'll make it sound like me.' That's the battle we're trying to win--feeling confident and comfortable in all situations. If you get to the point where you can express yourself and get your sound, your feeling, and your vibe--on any instrument--then you've really gotten somewhere."
VINCENT HERRING BIOGRAPHY
As a young boy growing up in Northern California, Grammy award winning saxophonist Vincent Herring dreamt of a future in music. He migrated to New York with hopes of fulfilling his dreams and goals.
Once in New York, Vincent studied with Phyl Woods and Jaki Byard, musicians that would be important to his development. As his musicianship blossomed he began fulfilling his goals and dreams touring Europe and the United States with Lionel Hampton's big band in the early 1980"s and for nearly ten pleasurable years toured the world with Nat Adderley.
Throughout his career Vincent has worked and or recorded with many of his heroes including: Cedar Walton, Freddie Hubbard, Dizzy Gillespie, Louis Hayes, Art Blakey, Horace Silver, Jack de Johnette, Larry Coryell, Kenny Barron, Steve Turre, The Mingus Big Band, Nancy Wilson, Dr. Billy Taylor, Carla Bley and John Hicks.
Other special concerts and projects have included special guest soloist engagements with Wynton Marsalis at Lincoln Center. Vincent also appeared as a guest soloist at Carnegie Hall with John Faddis and the Carnegie Hall Big Band. He has appeared at nearly every major Jazz Festival in the World as well as many of the major venues.
While amassing these impressive credentials Vincent continues to develop his own voice and style and has been a leader of his own band since 1990. 2013 find Vincent recording and working with a project Eric Alexander, Harold Mabern, Joris Dudli and Milan Nikolic, "In The Spirit of Coltrane and Cannonball." He also leads his own quartet and a band called Earth Jazz
Agents. Earth Jazz Agents is a band of musicians pulling from many styles of music and utilizing some electronics.
Vincent is also deeply involved in jazz education. He is currently on staff at William Patterson University. He also conducts master classes clinics throughout the world.
Vincent has recorded 20 CD's as a leader and can be heard on over 250 as a side man.

Support: The Ronnie Scotts All Stars
+ support tonight: The Ronnie Scotts All Stars with Special Guest vocalists Emma Smith (Mon) and Natalie Williams (Tues)
Monday's band line up: Alex Garnett (tenor sax), James Pearson (piano), Sam Burgess (bass) and Ed Richardson (drums).
Tuesday's band line up: is Alex Garnett (tenor sax), James Pearson (piano), Sam Burgess (bass) and Chris Higginbottom
The Ronnie Scott's All Stars are comprised of some of the greatest talents on the U.K scene, including some of our most regular performers James Pearson (piano), Sam Burgess (bass) and Pedro Segundo (drums)
James Pearson:-
Musical Director at Ronnie Scott's and the owner of a ferocious piano technique coupled with a sense of musicality rarely heard, James Pearson is one of the most exciting musicians to have emerged from the U.K in the last 25 years. After working with him, the late jazz legend Sir John Dankworth declared: "James Pearson is an exceptionally gifted artist. His masterful playing makes him head and shoulders above the rest of his contemporaries. He shows signs of true greatness".
Sam Burgess:-
Double Bass Despite only being in his early 30's, already Sam is a stalwart of the UK jazz scene. As well as appearing on numerous film soundtracks such as 'Bridget Jones's Diary' and 'Hannibal'. Sam's thumping, pounding, relentlessly driving bass lines have been heard accompanying the likes of Bob James, Billy Kilson, Gary Novak, Joe Lock, Dave Kekowski, Guy Barker, Dave O'Higgins, Pete King, Gareth Williams, Claire Martin, Jim Mullen, Alan Barnes, Tim Whitehead, John Horler, Gwyneth Herbert, John Dankworth, The BBC Big Band and Robbie Williams.
Pedro Segundo:-
At 22 years old Pedro Segundo, Portuguese drummer joins the James Pearson Trio at Ronnie Scott's Jazz Club.
Born and raised in Lisbon, picked up the drums seriously at the age of eight starting studying classical percussion a year later. In June 2011 he graduates from Guildhall School of Music and Drama in Timpani and Classical Percussion. His musical ability combines a blend of styles creating a unique sound on the drum set. He has played regularly with Dennis Rollins, Femi Temowo, Mário Franco, Cleveland Watkiss and many other artists touring in festivals all around the globe.
Other regular performers include:
Dave Ohm (drums), Natalie Williams (vocals), Alex Garnett (sax), Nigel Price (guitar), Steve Rushton (drums), Polly Gibbons (vocals), Alistair White (trombone), Gary Baldwin (hammond), Al Cherry (guitar), Matt Home (drums), Alan Barnes (sax), Ralph Salmins (drums), Arnie Somogyi (bass), Mark Smith (bass), James Nisbet (guitar), Pete Long (sax), Gerard Presencer (Trumpet), Dave O'Higgins (sax), Alec Dankworth (bass), Steve Fishwick (trumpet) and others...
To find out more, please go to:
www.myspace.com/thejamespearsontrio