Host Alex Garnett presents ... a very special late late show courtesy of US Saxophone star Patrick Cornelius Quartet featuring Mike Janisch (bs), Phil Robson (gtr) and Andrew Bain (drs). Click The Video Below For A Taster Of The Late Late Show (actual band on the night varies!)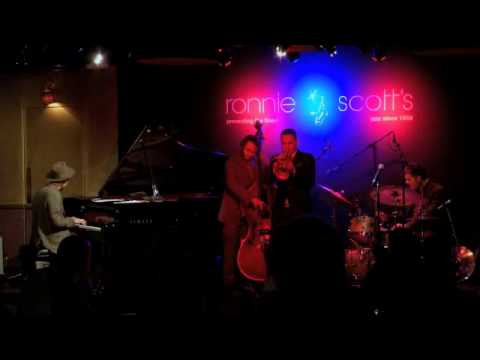 "We haven't had anything like this in New York for over twenty years". Wynton Marsalis

The Ronnie Scott's Late Late Show!

MONDAY - THURSDAY 11pm-3am
FRIDAY - SATURDAY 1am-3am

ENTRY ON THE DOOR (NO PREBOOKING)

£10 Entry, £5 Students (with ID), FREE entry to MU, Club members and main show ticket holders

In 1959, saxophonist Ronnie Scott opened the door to a small basement club in London's west end where local musicians could jam. Today, it is one of the world's most famous jazz clubs attracting packed houses and the biggest names in jazz and popular music and Ronnie Scott's welcoming, stylish setting is also home to London's coolest late night hang.

Each night Monday to Saturday, after the main act, Ronnie Scott's presents the Late Late Show, where some of the UK's finest jazz talents take to the stage for a late night blowing session.
FULL BIO
"Jazz's tradition and future are aptly represented in Patrick's individuality, direction, and talent.
By following Patrick's career, you will always enjoy the saxophone at its highest level."-- Dick Oatts, Saxophone Legend Patrick Cornelius
(347) . 526 . 0334
info@patrickcornelius.com
www.patrickcornelius.com
patrickcornelius
Over the past several years, alto saxophonist Patrick Cornelius has emerged as an exciting and dynamic new voice in the New York jazz scene. An instrumental virtuoso who counts Charlie Parker, Louis Armstrong, Wayne Shorter, Claude Debussy, and Peter Gabriel among his greatest influences, Patrick has made a name for himself as an emerging artist with seemingly limitless potential.
The son of a highly decorated US Air Force officer, Patrick was raised in such diverse locales as Germany, Georgia, Texas, and Great Britain. His parents took great pains to nurture his deep love and appreciation for the fine arts from an early age, exposing him and his brothers to the theater, concerts, museums, poetry readings, and classic literature.
Patrick began studying the piano at the age of 5, and gravitated towards the alto saxophone as a teenager, shifting his musical focus from the works of Debussy, Grieg, and Bartok, to the sounds of Charlie Parker, Sonny Rollins, and John Coltrane. He cut his teeth playing local gigs around his native San Antonio while still in high school, before attending both Berklee College of Music and The Manhattan School of Music on full scholarships for undergraduate and graduate studies respectively. More recently, Cornelius garnered back-to-back Young Jazz Composer awards from ASCAP in 2005, 2006, and 2007, and completed an Artist Diploma from the world famous Juilliard School.
Patrick's latest album Maybe Steps, which releases this September on Posi-Tone, takes its title from a tune Patrick first recorded for his last album Fierce (2010's trio outing), and combines old and new works into a deeply introspective tone poem, by far his most ambitious. The quintet format from Cornelius' first album Lucid Dream is back, as is drummer Kendrick Scott, joined by bassist Peter Slavov, another former Berklee classmate, pianist Gerald Clayton, and guitarist, composer and iconoclast Miles Okazaki, whom Cornelius met during post-graduate studies at Juilliard, and describes as "an incredibly intellectual and compositional improviser, yet really swinging and earthy at the same time." Nine of Maybe Steps' eleven tunes are originals (Kurt Weil/George Gerschwin and George Shearing penned the remaining two) and many are programmatic, representing life events from the birth of Cornelius' daughter to the day he proposed marriage to his wife. Maybe Steps' willingness to show vulnerability is its greatest strength. While Cornelius' last recording Fierce was about the alto, Maybe Steps is about the altoist. But the defining theme of Cornelius' career is not how he felt facing the various "big decisions" in his life, but that he did face them. His albums showcase the pursuit of an individual voice by any means necessary and a keen understanding of what makes him unique.
Cornelius, whose bands have in recent years been featured at venues such as Ronnie Scott's, London Jazz Festival, and Pizza Express in London, and The Blue Note, The Rubin Museum, The Jazz Gallery, Smalls, and The Bar Next Door in New York, continues to be one of New York's most respected up-and-coming young jazz musicians. Maybe Steps releases this September on Posi-Tone Records.
"[his] original works show a dusky elegance that owes much to Wayne Shorter while retaining a unique identity." --JazzTimes
"a bold and gifted sax player" --All About Jazz
"a dynamic New York altoist" --The Guardian
"a self-assured Press Quotes about Patrick Cornelius and Lucid Dream: "A self-assured young saxophonist in the post-modern mainstream" --Nate Chinen, The New York Times
"A Dynamic New York Altoist" --The Guardian
"A New American name to watch" --JazzWise Magazine
"Twice winner of ASCAP's Young Jazz Composers Award, Patrick Cornelius has devoted the bulk of his second recording to original works. The seven examples given here show a dusky elegance that owes much to Wayne Shorter while retaining a unique identity." -- Forrest Dylan Bryant, JazzTimes
"...Enjoyable, clever music, which does interesting things with what it inherits from the jazz tradition... Well-schooled music, but music played with feeling, commitment and imagination," -- Glyn Pursglove, MusicWeb international
"...In an impressive debut by one of the new young lions of jazz, Patrick Cornelius crafts a captivating and engaging recording... Lucid Dream is a disc worth more than a listen and sure to garnish critical acclaim." -- Ed Blanco, eJazzNews
"Throughout [Lucid Dream], Cornelius and company are utterly in sync, interacting and supporting each other to make sophisticated but powerful music." -- Peter Hum, The Ottawa Citizen
"[Patrick's] solo debut CD, "Lucid Dream," is packed with excellent original compositions plus a sharp rendition of Charlie Parker's "Billie's Bounce" and a couple of other covers. It's Cornelius' originals, however, that serve notice the reedman is ready. In the straight-ahead vein, the songs on "Lucid Dream" are imaginative and accessible." -- Jim Beal, San Antonio Express-News
"From beginning to end, this music is a satisfying mix of contemporary sounds." --Mark F. Turner, AllAboutJazz.com
"What a wonderful recording; a truly finished product. Keep on taking chances!!!" --David Liebman, Jazz Icon
"This fine effort from Patrick Cornelius and company is aptly
titled, as the music is both lucid (accessible, musically logical) and dream-like (filled with fantasy and invention)... taking the listener on a fulfilling tour led by a multi-talented artist on a star-bright trajectory." --Andrea Canter, JazzPolice.com
www.patrickcornelius.com
patrickcornelius
Press Quotes about
Patrick Cornelius and Fierce: "The music and performances are inspiringly creative and the musicians are fully committed to the task of performing cohesively as a unit" --Frank Bongiorno, Saxophone Journal
"compositional smarts and a centered warmth in his attitude
mark him out" --Michael Jackson, Downbeat
"streamlined, precisely crafted and keenly contemporary, as well as, at times, very powerful." --Peter Him, Ottawa Citizen
"a confident, highly accomplished assertive musician with a
strong take-no-prisoners sound." --Tony Hall, JazzWise Magazine 1/12/2010
"bold performances that are creative and, yes, occasionally
fierce" --Dan Bilawsky, All About Jazz 14/10/2010
"a warm, inviting and often rather measured—thoughtful, considered and reflective—collection of lovely tunes." --Bruce Lindsay, All About Jazz 18/10/2010
"Cornelius is articulate and plays the kind of improvisations the listener can follow all the way with ease while still enjoying the excitement of the sudden unexpected turn" --Peter Bacon, The Jazz Breakfast (UK) 15/10/2010
"US altoist Patrick Cornelius calls this album 'the distillation of all the joy, hope, exhilaration, and wonder that music has brought to my life', and for sheer vitality and exuberance, its nine tracks are indeed hard to beat." --Chris Parker, Londonjazz
"the freshness, spontaneity and vitality of the session is immediately discernible to the listener. "Fierce" simply bristles with intent." --Ian Man, www.thejazzmann.com
"In the excellence of his compositions, and in the skill of his
playing and the playing of those around him, Patrick Cornelius has made a truly notable album." --Mark Hayes, "Passing Notes" 88.9 FM WDNA 18/10/2010
"Cornelius infuses Fierce with texture built on a sense of adventure, a sense of fun, an abundance of accessible melody and a true band approach to the playing. " --Jim Beal, San Antonio Express-News 1/12/2010
"The interplay of the rhythm section with the leader is impressive and Cornelius responds with solos that range far afield but never lose focus. He's got fire and grace, showing no need to compromise on his vision." --Richard B. Kamins, "Step Tempest" 24/12/2010
9/06 Carmens de la Calle (San Antonio, TX)
11/06 The Jazz Gallery (New York, NY)
11/06 Pizza Express (London, UK)
12/06 Queen Elizabeth Hall(London, UK)
3/07 Smalls (New York, NY)
4/