Booking now closed, a few tickets still left on the door.
LINEUP CONFIRMED Hermeto Pascoal
- keyboard, accordion, teapot, bass flute, his skeleton, cup of water...
Aline Morena
- voice, ten strings guitar and body percussion,
Itiberê Zwarg
- electric bass and percussion,
André Marques
- piano, flute and percussion,
Vinícius Dorin
- saxes, flutes and percussion,
Fabio Pascoal
- percussion and stage direction,
Marcio Bahia
- drum kit and percussion.
"The most impressive musician in the world" -Miles Davis
We are thrilled to present this absolutely legendary Brazilian multi-instrumentalist genius for 3 exclusive nights at Ronnie Scott's.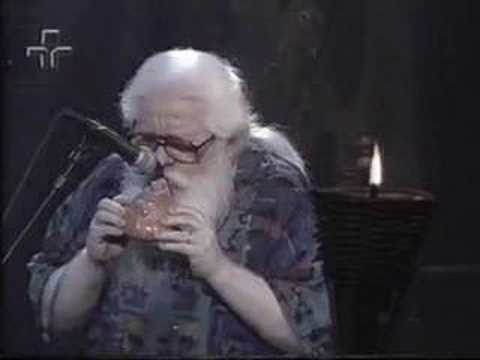 BIOGRAPHY
Son of Pascoal José da Costa and his wife Vergelina Eulália de Oliveira, Hermeto Pascoal was born in Olho d´Água, on July 22nd, 1936, and raised in Lagoa da Canoa, Arapiraca City, Alagoas State (by the time of his birth, Lagoa da Canoa was still Arapiraca´s district). It was in his military enlistment that he received his father's first name as his surname.
Fascinated by the sounds of nature since he was a little boy, from a pumpkin mammon pipe he made a fife with which he used to play for the birds. He liked to spend hours in the lake playing sounds with the water, and also to pick every piece of scrap metal in his grandfather's blacksmith shop to hang them in a rope to take sound of them. When he reached the age of 7-8 years old, he decided to try his father's 8-bass accordion, and never stopped. Then, he started to play with his older brother, José Neto, in forró parties, weddings reception, alternating with him on the 8-bass accordion and the tambourine.
In 1950, he moved to Recife where he started playing at the Tamandaré Radio Station. From there he was soon invited by Sivuca (a renowned accordion player) to join the Jornal do Commercio Radio, where José Neto, his brother, was already working. There they created O Mundo Pegando Fogo (The World On Fire) trio, which indeed caught on fire right in their very first performance, because, according to Hermeto, he and his brother were just beginning to play the large accordion – till then they played only the smaller 8-bass accordion.
However, as he didn't want to play the tambourine but the accordion, he was sent as a reject to the Caruaru Radio Broadcast by the director of the "Jornal do Commercio Radio", Luis Torres, who said to him that he was not good enough for music. When Sivuca stopped by there, he told the director many good things about Hermeto. As a result, Hermeto was soon back at the "Jornal do Commercio" Radio, in Pernambuco, earning the salary he had asked and invited by the same person who had laid him off. There he married Ilza da Silva Pascoal ( with her, Hermeto have 6 sons: Jorge, Fátima, Fabio, Flávia, Fabiula and Flávio). By that time, he was invited by the guitar player Heraldo do Monte, to play at the Delfim Verde Night Club, where he discovered the piano.
In 1958, he moved to Rio to play the accordion with the regional band Pernambuco do Pandeiro, at the Mauá Radio Station. From there, he was invited to play the piano with the Fafá Lemos band, the violin player, and with the band of the Maestro Copinha, a flute and sax player, at the Excelsior Hotel.
Attracted by the music business, he moves to São Paulo, in 1961, playing in many night clubs. Along with the piston player Papudinho, the drummer Edilson, and the bass player Azeitona, he forms the Som Quatro band. It is then that he starts to study the flute. Next, he joins the Sambrasa Trio, with Cleiber at the bass and Airto at the drums.
With the growth of the TV shows, in 1966, it was created the Quarteto Novo, with Hermeto playing the piano and the flute, Heraldo do Monte at the guitar and the ten strings guitar, Théo de Barros at the bass and acoustic guitar and Airto Moreira at the drums and percussion. The group innovates with their refined sound and rich harmony, taking part in the best music festivals and Record Television Network shows, representing the best of our music. By that time, they managed to win one of the Brazilian Music Festivals with the song "Ponteio", composed by Edu Lobo. Besides, Hermeto also won many other prizes as music arranger. In the following year, the group recorded the album Quarteto Novo, by Odeon, with two of Hermeto's compositions, the songs O Ovo (The Egg) and Canto Geral (The General Chant).
In 1969, invited by Flora Purim and Airto Moreira, he travels to the USA and records several albums, performing as composer, arranger and player. By that time he meets Miles Davis and records with him two of his own songs, Nem Um Talvez (Not Even a Maybe) and Igrejinha (Little Church).
Back in Brazil, he records the album A Música Livre de Hermeto Pascoal (The Free Music of Hermeto Pascoal), by Philips Records.
In 1976, he travels again to the USA, and records The Slave's Mass and performs a few more jobs with Airto and Flora.
With a name already known, thanks to his talent, quality and creativity, he becomes an attraction in many major events, like the1978 International Jazz Festival, in São Paulo. In the next year, he takes part in the Montreux Festival, in Switzerland, where he releases his double-album Hermeto Pascoal ao Vivo (Hermeto Pascoal Live), and heads to Tokyo, where he takes part on the Live Under the Sky. In 1980, he releases the album Cérebro Magnético (Magnetic Brain), and extends his performances all over Europe.
In 1985, under the same label, he releases the album Lagoa da Canoa, Município de Arapiraca, in which for the first time he records the Som da Aura (The Sound of the Aura) with the participation of sport speakers Osmar Santos (Tiruliru) and José Carlos Araújo (Stop! Stop! Stop!). This album he recorded also to pay homage to his hometown, which had been raised to the status of city and that awarded him the title of honorary citizen.
He also composes the Sinfonia em Quadrinhos (Cartoon Symphony), which he performs with the São Paulo Youth Orchestra. After this, he travels to Copenhagen, where he presents his piano suite Pixitotinha with the Copenhagen Symphony, in a concert broadcasted all over Europe.
In 1987, the recording company Som da Gente (Sound of Our People) releases another LP by Hermeto: Só Não Toca Quem Não Quer (Only If You Don't Want It), through which the musician pays homage to newsmen and radiomen, in recognition for their support throughout his career.
In 1992, invited by PolyGram, he records with his group the Festa dos Deuses (Party of the Gods). As soon as the record is released, he travels to Europe for a number of concerts in Germany, Switzerland, Denmark, England and Portugal.
In March, 1995, he played a Symphony at the Sesc Itaquera Play Park, in São Paulo, using the gigantic musical instruments of the park. In the same year, he was invited to Rosario, Argentina, by UNICEF, where he and his band performed for 2,000 children, inside a swimming pool mounted on the stage by his request.
From June 23rd, 1996, through June 22nd, 1997, he wrote one composition a day, no matter where he was. These compositions became part of the CALENDÁRIO DO SOM (Calendar of Sounds), published by the Senac in 1999.
In 1999, he released the CD Eu e Eles (I and They), the first release by the Mec Radio Records, in Rio de Janeiro. In this CD, produced by his son Fábio Pascoal, Hermeto plays all the instruments.
In 2003, he releases a CD with his group Mundo Verde Esperança (Green Hope World), also produced by Fábio.
In October 2002, during a music workshop in Londrina, PR, he met the singer Aline Morena and asked her to sing the next day with his group, in Maringá, PR. Next, she followed him to Rio, and at the end of 2003, he moved to Curitiba, PR, with her. There, he started to teach her the ten strings guitar, piano and percussion, and in March 2004, he made the debut of his newest ensemble, the duo Chimarrão com Rapadura (Mate-Herb with Brown Sugar – a woman from Rio Grande do Sul with a man from Alagoas) with Aline Morena.
In April 2004, he traveled to London for his third concert with the local Big Band, being that the first concert had been considered the SHOW OF THE DECADE.
In 2005, he recorded the CD and DVD Chimarrão com Rapadura, with Aline Morena, and performed two big tours with his group throughout Europe.
This year Hermeto Pascoal and Aline Morena are presenting their new cd "Bodas de Latão" to celebrate their seven years together in music and in life! There are Hermeto' s new and classics compositions besides a composition and some new lyrics by Aline Morena. Still "Años de Soledad" by Astor Piazzolla. Two of them are multimedia!
Today, Hermeto performs with five ensembles: Hermeto and Band, Hermeto Solo, Hermeto Pascoal and Aline Morena, Hermeto and Big Band and Hermeto and Symphony Orchestra. Now he says: that's all for now!! This is our CHAMPION!
Obs. Public, concerts and records have all the same importance to Hermeto. He does not have better public, or better concert, or a better record. They are all children loved by him. Therefore, what was mentioned in this biography is mentioned only to illustrate of the facts that had been remembered.
Support: The Ronnie Scotts All Stars
+ support tonight: The Ronnie Scotts All Stars with Special Guest vocalists Emma Smith (Mon) and Natalie Williams (Tues)
Monday's band line up: Alex Garnett (tenor sax), James Pearson (piano), Sam Burgess (bass) and Ed Richardson (drums).
Tuesday's band line up: is Alex Garnett (tenor sax), James Pearson (piano), Sam Burgess (bass) and Chris Higginbottom
The Ronnie Scott's All Stars are comprised of some of the greatest talents on the U.K scene, including some of our most regular performers James Pearson (piano), Sam Burgess (bass) and Pedro Segundo (drums)
James Pearson:-
Musical Director at Ronnie Scott's and the owner of a ferocious piano technique coupled with a sense of musicality rarely heard, James Pearson is one of the most exciting musicians to have emerged from the U.K in the last 25 years. After working with him, the late jazz legend Sir John Dankworth declared: "James Pearson is an exceptionally gifted artist. His masterful playing makes him head and shoulders above the rest of his contemporaries. He shows signs of true greatness".
Sam Burgess:-
Double Bass Despite only being in his early 30's, already Sam is a stalwart of the UK jazz scene. As well as appearing on numerous film soundtracks such as 'Bridget Jones's Diary' and 'Hannibal'. Sam's thumping, pounding, relentlessly driving bass lines have been heard accompanying the likes of Bob James, Billy Kilson, Gary Novak, Joe Lock, Dave Kekowski, Guy Barker, Dave O'Higgins, Pete King, Gareth Williams, Claire Martin, Jim Mullen, Alan Barnes, Tim Whitehead, John Horler, Gwyneth Herbert, John Dankworth, The BBC Big Band and Robbie Williams.
Pedro Segundo:-
At 22 years old Pedro Segundo, Portuguese drummer joins the James Pearson Trio at Ronnie Scott's Jazz Club.
Born and raised in Lisbon, picked up the drums seriously at the age of eight starting studying classical percussion a year later. In June 2011 he graduates from Guildhall School of Music and Drama in Timpani and Classical Percussion. His musical ability combines a blend of styles creating a unique sound on the drum set. He has played regularly with Dennis Rollins, Femi Temowo, Mário Franco, Cleveland Watkiss and many other artists touring in festivals all around the globe.
Other regular performers include:
Dave Ohm (drums), Natalie Williams (vocals), Alex Garnett (sax), Nigel Price (guitar), Steve Rushton (drums), Polly Gibbons (vocals), Alistair White (trombone), Gary Baldwin (hammond), Al Cherry (guitar), Matt Home (drums), Alan Barnes (sax), Ralph Salmins (drums), Arnie Somogyi (bass), Mark Smith (bass), James Nisbet (guitar), Pete Long (sax), Gerard Presencer (Trumpet), Dave O'Higgins (sax), Alec Dankworth (bass), Steve Fishwick (trumpet) and others...
To find out more, please go to:
www.myspace.com/thejamespearsontrio