Booking now closed, a few tickets still left on the door.
Line-up: Kevin Fitzsimmons (vocals), Leon Greening (piano), Alex Garnett (sax), Adam King (bass), Lloyd Haines (drums), Tom Syson (trumpet)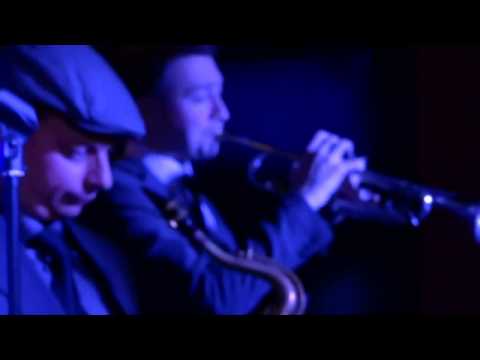 Kevin Fitzsimmons' official website: www.jazzwurx.co.uk
The 1960s was a special time in Britain, when all eyes were on it and London was the centre of where the swinging 60s was at its coolest. So, following rave reviews from its debut at Wall2Wall Jazz Festival, join critically-acclaimed jazz singer Kevin Fitzsimmons & his top-notch musicians as they celebrate the raft of songs from the cool jazz artists who seeped into the mainstream during this unique time - likes of Mendes, Jobim, Mel Torme, Nancy Wilson, Ramsey Lewis - and those who ran parallel (like Mark Murphy, Shirley Horn). To complete this entertaining retrospective enjoy inspired jazz re-works of hip songs from the famed pop hit makers of the time, like The Beatles, The Kinks, Burt Bacharach, Ray Charles, Joni Mitchell. What's more, Kevin Fitzsimmons' unstoppably swinging musicians - described by Jazzwise as "the cream of UK straight-ahead jazz musicians, solid and groove aplenty" - promise to keep you on the edge of your seat: award winning pianist Leon Greening ("Catch him when you can" - Jazz Journal International); Ronnie Scott's Allstars sax king, Alex Garnett; bassist Adam King (2015 Young Jazz Musician Of The Year); and two of the jazz scene's young rising stars, drummer Lloyd Haines and trumpet player Tom Syson . So a wonderful afternoon of top jazz is guaranteed.
"Unique interpretations, a brilliant gig" – More Opinions (Jazz Nights)
"Impresses greatly" – UK VIBE (Jazz Culture Online)
"Lovers of jazz vocal have another star to follow" – Jazzwise Magazine
"The way Fitzsimmons flies freely around his themes is exciting to hear" – Wales Arts Review at Wall2Wall Jazz Festival
"Talent, originality, has that rare vocal skill of total control of all he does" – Jazz Critic, Grapevine Magazine, live gig review
London born jazz singer/ songwriter, Kevin Fitzsimmons, has become one of the most original and distinctive singers on the UK mainstream jazz scene. Praised by jazz critics for his impressive, naturally swinging vocals and engaging, highly personable stage presence. A long-time fan of Mark Murphy, Kevin's insightful interpretations of the standards, inspired jazz re-stylings of carefully chosen soul/pop/ rock classics and distinctive original songs has garnered him fans far and wide (including many celebrities). He has enjoyed many sell out shows here at Ronnie Scott's, at most of London's main jazz clubs and venues nationwide & in Europe, and has appeared at several jazz festivals inc. Cheltenham. His two albums, one released this year, have both received considerable critical acclaim and airplay, and he's had one of his live concerts broadcast on Jazz FM. In addition, Kevin's distinctive vocals have featured in TV and radio commercials in the UK & Europe; he also stars in the popular Big Band concert based on Sinatra's iconic era at Capitol Records, 'Sinatra, Sequins & Swing: The Capitol Years Live!