Booking now closed, a few tickets still left on the door.
Lineup : Christian McBride - (Bass/Leader), Christian Sands (piano), Ulysses Owens (drs)

Bassist extraodinaire, composer, arranger, educator, curator and administrator, Christian McBride, has been one of the most important and most omnipresent figures in the jazz world for 20 years. Sometimes hard to believe considering this man is not yet 40.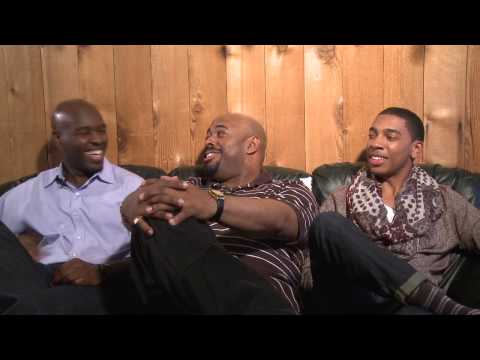 Beginning in 1989, this Philadelphia-born bassist moved to New York City to further his classical studies at the Juilliard School, only to be snatched up by alto saxophonist, Bobby Watson. Since then, McBride's list of accomplishments have been nothing short of staggering. As a sideman in the jazz world alone, he's worked with the best of the very best - Freddie Hubbard, Sonny Rollins, J.J. Johnson, Ray Brown, Milt Jackson, McCoy Tyner, Roy Haynes, Chick Corea, Herbie Hancock and Pat Metheny. In the R&B world, he's not only played with, but also arranged for Isaac Hayes, Chaka Khan, Natalie Cole, Lalah Hathaway, and the one and only Godfather of Soul himself, James Brown. In the pop/rock world, he's extensively collaborated with Sting, Carly Simon, Don Henley, and Bruce Hornsby. In the hip-hop/neo-soul world, he's collaborated with the Roots, D'Angelo, and Queen Latifah. In many other specialty projects, he's worked closely with opera legend Kathleen Battle, bass virtuoso Edgar Meyer, the Shanghai Quartet and the Sonus Quartet.
Away from the bass, Christian has become quite an astute and respected spokesperson for the music. In 1997, he spoke on former President Bill Clinton's town hall meeting "Racism in the Performing Arts". In 2000, he was named Artistic Director of the Jazz Aspen Snowmass Summer Sessions. In 2005, he was officially named the co-director of the National Jazz Museum in Harlem. Also in 2005, he was named the second Creative Chair for Jazz of the Los Angeles Philharmonic Association.
In 1998, McBride composed, "The Movement, Revisited", a four-movement suite dedicated to four of the major figures of the civil rights movement - Rosa Parks, Malcolm X, Muhammad Ali and Dr. Martin Luther King, Jr. The piece was commissioned by the Portland (ME) Arts Society and the National Endowment for the Arts. The piece was performed throughout the New England states in the fall of 1998 with McBride's quartet and a 30-piece gospel choir led by J.D. Steele.
Ten years later in 2008, "The Movement, Revisited" was expanded, re-written, re-vamped and performed again in Los Angeles at Walt Disney Concert Hall. The updated version now featured the gospel choir, an 18-piece big-band and four actors/speakers. The Los Angeles Times claimed the "Movement" as, "a work that was admirable -- to paraphrase Dr. King -- for both the content of its music and the character of its message."
Since 2000, McBride has blazed a trail as a bandleader with the Christian McBride Band. McBride's fellow bandmates - saxophonist Ron Blake, keyboardist Geoffrey Keezer and drummer Terreon Gully - have sympathetically shared McBride's all-inclusive, forward-thinking outlook on music. Releasing two CD's - 2002's "Vertical Vision", and 2006's "Live at Tonic", writer Alan Leeds called McBride's band (affectionately known as the "CMB") "one of the most intoxicating, least predictable bands on the scene today." It is a group that has mesmerizingly walked an electro-acoustic fault line with amazing results.
Support: The Ronnie Scotts All Stars
+ support tonight: The Ronnie Scotts All Stars with Special Guest vocalists Emma Smith (Mon) and Natalie Williams (Tues)
Monday's band line up: Alex Garnett (tenor sax), James Pearson (piano), Sam Burgess (bass) and Ed Richardson (drums).
Tuesday's band line up: is Alex Garnett (tenor sax), James Pearson (piano), Sam Burgess (bass) and Chris Higginbottom
The Ronnie Scott's All Stars are comprised of some of the greatest talents on the U.K scene, including some of our most regular performers James Pearson (piano), Sam Burgess (bass) and Pedro Segundo (drums)
James Pearson:-
Musical Director at Ronnie Scott's and the owner of a ferocious piano technique coupled with a sense of musicality rarely heard, James Pearson is one of the most exciting musicians to have emerged from the U.K in the last 25 years. After working with him, the late jazz legend Sir John Dankworth declared: "James Pearson is an exceptionally gifted artist. His masterful playing makes him head and shoulders above the rest of his contemporaries. He shows signs of true greatness".
Sam Burgess:-
Double Bass Despite only being in his early 30's, already Sam is a stalwart of the UK jazz scene. As well as appearing on numerous film soundtracks such as 'Bridget Jones's Diary' and 'Hannibal'. Sam's thumping, pounding, relentlessly driving bass lines have been heard accompanying the likes of Bob James, Billy Kilson, Gary Novak, Joe Lock, Dave Kekowski, Guy Barker, Dave O'Higgins, Pete King, Gareth Williams, Claire Martin, Jim Mullen, Alan Barnes, Tim Whitehead, John Horler, Gwyneth Herbert, John Dankworth, The BBC Big Band and Robbie Williams.
Pedro Segundo:-
At 22 years old Pedro Segundo, Portuguese drummer joins the James Pearson Trio at Ronnie Scott's Jazz Club.
Born and raised in Lisbon, picked up the drums seriously at the age of eight starting studying classical percussion a year later. In June 2011 he graduates from Guildhall School of Music and Drama in Timpani and Classical Percussion. His musical ability combines a blend of styles creating a unique sound on the drum set. He has played regularly with Dennis Rollins, Femi Temowo, Mário Franco, Cleveland Watkiss and many other artists touring in festivals all around the globe.
Other regular performers include:
Dave Ohm (drums), Natalie Williams (vocals), Alex Garnett (sax), Nigel Price (guitar), Steve Rushton (drums), Polly Gibbons (vocals), Alistair White (trombone), Gary Baldwin (hammond), Al Cherry (guitar), Matt Home (drums), Alan Barnes (sax), Ralph Salmins (drums), Arnie Somogyi (bass), Mark Smith (bass), James Nisbet (guitar), Pete Long (sax), Gerard Presencer (Trumpet), Dave O'Higgins (sax), Alec Dankworth (bass), Steve Fishwick (trumpet) and others...
To find out more, please go to:
www.myspace.com/thejamespearsontrio