Booking now closed, a few tickets still left on the door.
CHRISTIAN SCOTT ATUNDE ADJUAH trumpet, reverse flugel, sirenette, Tony Tixier - piano/keys, Luques Curtis - bass, Corey Fonville - drums & Logan Richardson - Sax

When Mos Def and Jill Scott need someone to take their performances to the next level, they call him. When X-Clan wanted to add some heft to their Return From Mecca album, he was the one they reached out to. The man in question is Christian Scott, the acclaimed trumpeter whose textured playing appeals to both respected members of the hip-hop community and to jazz purists.

Scott's ability to harness the attitude, urgency and power of the rap generation and his classically trained musical ear have equally informed Scott's most impressive work to date, Anthem. It's an album that stands as a watershed moment in music, a release that will have young fans eager to pick up a trumpet as much as they want to try their hand at rapping. It's that powerful.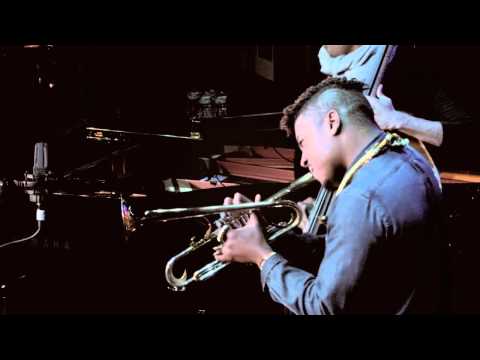 The reason Scott's music contains such potency is that he was raised to think about things on a major, wide-reaching scale. He's a product of the streets and the classroom, after all. Given this background and that his parents required that he be informed in local, national and international events, it should come as no surprise that Scott was moved by the destruction caused by Hurricane Katrina, and by the catastrophic failure of government that has yet to result in the repair of the Gulf Coast region nearly two years after it struck. Scott wanted Anthem to use his native New Orleans to serve as a microcosm for what was going on around the world.

"I saw a lot of problems in context to what was happening with our country and abroad during the time I was writing the music for the album," he recalls. "I wanted to try to make something that would relate to everyone, and no one at all. It started off as a social-political album. In context with that, I wanted the Anthem to be for, or represent, people who were disenfranchised in any way."

The two versions of the title track directly speak to Scott's musical mission. "Anthem (Antediluvian Adaptation)" reflects New Orleans before the storm and the flood. On this selection, his playing is minimalist, and the accompanying, piano, guitars and drums are visceral, reflecting the ennui seeping through a city about to be destroyed. "Anthem (Post Diluvial Adaptation)" reflects the rage post-Katrina, when residents are outraged. A fiery performance from X-Clan rapper Brother J reflects this angst, as does Scott's playing, which offers both pain and anger. But both versions of "Anthem" also contain similarities, a nod to New Orleans' consistent status as a city in disarray.
"The nature of the city has not changed from then till now," Scott says. "People have acted like after the storm happened things have gotten worse, but all the problems that were there before the storm are still there, if not worse. But the way that people have interpreted the city has changed."

The somber, smoldering "Litany Against Fear" builds into a bright space, thus speaking to Scott's constant pursuit to be aware of what's going on in the world around him, rather than fear the unknown or unexplored. "Remains Distant" pays homage to Miles Davis by creating an avant garde groove that will appeal to jazz listeners and to the fast-paced lives of young black children living in the streets of America. (The album's liner note is a poem by Saul Williams, "When The Storm Remains Distant," which Scott felt mirrored "Remains Distant.")

The slow, heavy, sensuous "Cease Fire" reflects the moment when a relationship dissolves, while the caressing, comforting tone of "Katrina's Eyes" came to Scott in a dream where he imagined himself a father who was mesmerized by the eyes of his young daughter.

Indeed, the impact children have on us can be profound. That's why Scott chose to use a photo of himself in front of a young girl playing in a murder scene chalk outline as his album cover. The photograph, taken by his twin brother Kiel, represents how our children are so desensitized to the ills of society surrounding them that are comfortable playing in the middle of them.

Scott himself was fortunate to emerge from the rugged Ninth Ward of New Orleans where he was raised. Even though he was a straight-A student and deep into athletics, he also had a propensity for fighting. It was a pastime that got him kicked out of several schools. Fortunately, Scott was also surrounded by music as a child, and realized that regardless of the mood of the day, when a second line would come through his neighborhood, everyone felt better.

By age 12, he discovered his love: playing music. That's when he was given his first trumpet. Scott was consumed by playing the instrument. His fighting tapered off and he landed a slot at the prestigious New Orleans Center For the Creative Arts, a high school whose other alumni include Wynton Marsalis, Branford Marsalis, Terence Blanchard and Harry Connick Jr.

Scott's superior playing led him to the Berklee School of Music, where he completed a double degree in less than half of the standard time. Soon after self-funding and self-releasing his eponymous debut album, he relocated to New York to be among other great artists and musicians, helping pave the way for his current success.

Scott joined the prestigious Concord Records roster with 2006's Rewind That, a Top 15 album on the Billboard's Top Jazz Albums chart that established Scott as one of music's most exciting and innovative new talents, one who was respected in jazz circles and whose sensibility led to collaborations and performance gigs with such rap and R&B heavyweights as Mos Def, Jill Scott and X-Clan.

It's a career path that makes his new work all the more meaningful. "I want to show with my music that you don't necessarily have to follow a model to be successful with what you're doing," Scott says. "If your intentions are right and you're coming from a place of sincerity, then typically people will understand, get it and gravitate towards it."

And even make it their Anthem.
Support: The Ronnie Scotts All Stars
+ support tonight: The Ronnie Scotts All Stars with Special Guest vocalists Emma Smith (Mon) and Natalie Williams (Tues)
Monday's band line up: Alex Garnett (tenor sax), James Pearson (piano), Sam Burgess (bass) and Ed Richardson (drums).
Tuesday's band line up: is Alex Garnett (tenor sax), James Pearson (piano), Sam Burgess (bass) and Chris Higginbottom
The Ronnie Scott's All Stars are comprised of some of the greatest talents on the U.K scene, including some of our most regular performers James Pearson (piano), Sam Burgess (bass) and Pedro Segundo (drums)
James Pearson:-
Musical Director at Ronnie Scott's and the owner of a ferocious piano technique coupled with a sense of musicality rarely heard, James Pearson is one of the most exciting musicians to have emerged from the U.K in the last 25 years. After working with him, the late jazz legend Sir John Dankworth declared: "James Pearson is an exceptionally gifted artist. His masterful playing makes him head and shoulders above the rest of his contemporaries. He shows signs of true greatness".
Sam Burgess:-
Double Bass Despite only being in his early 30's, already Sam is a stalwart of the UK jazz scene. As well as appearing on numerous film soundtracks such as 'Bridget Jones's Diary' and 'Hannibal'. Sam's thumping, pounding, relentlessly driving bass lines have been heard accompanying the likes of Bob James, Billy Kilson, Gary Novak, Joe Lock, Dave Kekowski, Guy Barker, Dave O'Higgins, Pete King, Gareth Williams, Claire Martin, Jim Mullen, Alan Barnes, Tim Whitehead, John Horler, Gwyneth Herbert, John Dankworth, The BBC Big Band and Robbie Williams.
Pedro Segundo:-
At 22 years old Pedro Segundo, Portuguese drummer joins the James Pearson Trio at Ronnie Scott's Jazz Club.
Born and raised in Lisbon, picked up the drums seriously at the age of eight starting studying classical percussion a year later. In June 2011 he graduates from Guildhall School of Music and Drama in Timpani and Classical Percussion. His musical ability combines a blend of styles creating a unique sound on the drum set. He has played regularly with Dennis Rollins, Femi Temowo, Mário Franco, Cleveland Watkiss and many other artists touring in festivals all around the globe.
Other regular performers include:
Dave Ohm (drums), Natalie Williams (vocals), Alex Garnett (sax), Nigel Price (guitar), Steve Rushton (drums), Polly Gibbons (vocals), Alistair White (trombone), Gary Baldwin (hammond), Al Cherry (guitar), Matt Home (drums), Alan Barnes (sax), Ralph Salmins (drums), Arnie Somogyi (bass), Mark Smith (bass), James Nisbet (guitar), Pete Long (sax), Gerard Presencer (Trumpet), Dave O'Higgins (sax), Alec Dankworth (bass), Steve Fishwick (trumpet) and others...
To find out more, please go to:
www.myspace.com/thejamespearsontrio