Booking now closed, a few tickets still left on the door.
British jazz trombonist Chris Barber was one of the major figures of the British Trad revival of 50's – early 60's and has been a household name ever since.

LINEUP :
Chris Barber - trombone, Bob Hunt - trombone & trumpet, Peter Rudeforth - trumpet & flugelhorn, Mike 'Magic' Henry - trumpet & cornet, Richard Exall - clarinet, alto & baritone sax, Amy Roberts - clarinet, alto & tenor sax, Bert Brandsma - alto & tenor sax, Joe Farler - banjo & guitar, Jackie Flavelle - string bass & bass guitar, Gregor Beck - drums
The Big Chris Barber Band
"60th Anniversary Tour"
Europe's Finest Traditional Jazz & Blues Band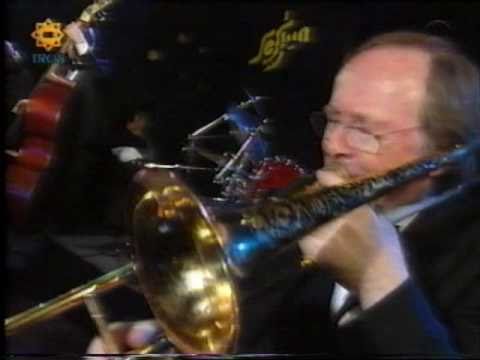 www.chrisbarber.net


Chris Barber OBE, this year celebrates his Diamond Jubilee as leader of his band on a full-time professional basis.

A band that stands out as one of the finest, if not thé finest, of its kind anywhere in the world.

Chris Barber leads his 10-piece band, with its 7-strong front line, playing a wide selection of his favourite music: from his roots in New Orleans style in "Bourbon Street Parade" (still his signature tune) to the early music of Duke Ellington ("Black & Tan Fantasy" and "Jubilee Stomp").... and Sidney Bechet ("Petite Fleur") and further on to blues by Sonny Terry & Brownie McGhee ("Cornbread, Peas and Black Molasses") on to soulful blues like Miles Davis' "All Blues".......... and probably back to "When the Saints"!

Over the years CHRIS BARBER has influenced many of today's leading Jazz and Blues musicians....especially contemporary artists such as Mark Knopfler, Eric Burdon, John Mayall, The Stones, Eric Clapton and Van Morrison (with some of whose bands Chris has often been a featured guest with great pleasure).

You can count on an exciting evening of high quality jazz & blues which will appeal in equal measure to the aficionado and the newcomer.

"Bourbon Street Parade" * "Jubilee Stomp" * "Ice Cream"
"When the Saints Go Marching In"
CHRIS BARBER STILL BLOWING STRONG AFTER 60 YEARS

Chris Barber OBE this year celebrates his Diamond Jubilee as leader of his band on a full-time professional basis. In fact his career began even earlier - in 1949 – when he started his first amateur band which included Alexis Korner on guitar. Little could either Chris or Alexis have known that they were destined, in their respective ways, to become major figures in bringing blues and gospel music to audiences of the UK and Europe.

That first band, known as Chris Barber's New Orleans Jazz Band, gave way to Chris Barber's Jazz Band who played their first professional engagement in December 1953 following a spell when known as Ken Colyer's Jazzmen. This 'co-operative' band gave it Ken's name because he had gained publicity by jumping ship in New Orleans to play his trumpet alongside many of the local pioneers of the music. A policy disagreement led to the band 'voting out' Ken and he was replaced by Pat Halcox who remained with the band until his retirement in 2008.

By 1954 Chris Barber's Jazz Band was performing at major concert venues such as The Royal Festival Hall and their first LP 'New Orleans Joys' included a skiffle track, 'Rock Island Line' featuring their banjoist Lonnie Donegan. Released as a single, it topped the charts both sides of the Atlantic and paved the way, not only for Lonnie Donegan's solo career, but also for USA concert appearances by Chris Barber's Jazz Band. So, as we can see, Chris Barber's Band were 'taking coals to Newcastle' several years before The Beatles were acclaimed (and honoured!) for similar achievements.

Chris Barber, from out of his own pocket, financed the introduction to the UK and Europe, of numerous American artistes. The UK promoters weren't interested because the band was selling out "without the need for guests"! The first visiting artistes to appear with Chris Barber's Jazz Band arrived in 1958 in the form of Sonny Terry & Brownie McGhee. Sister Rosetta Tharpe followed shortly afterwards. Tommy Tucker, Alvin Alcorn, Professor Alex Bradford, James Cotton & Dr John are just a few examples of U.S. artistes
introduced to Europe by Chris Barber in the ensuing years.

During this time the bands of Chris Barber have been enriched by those experiences and influences. On record, Chris' career has been skillfully encapsulated by Proper Records with their Double CD release 'Memories Of My Trip' (PRP CD 073). The aforementioned historical encounters are reflected on this recording, along with more recent collaborations with Van Morrison, Paul Jones, Eric Clapton, Andy Fairweather Low and others.

The Chris Barber Jazz Band of 1953 was a six piece line up. These days - known as The Big Chris Barber Band - it is ten in number. Chris' explanation for that is interesting: "Throughout the years we have always enjoyed playing the music of Duke Ellington. From time to time we have brought to Europe the artistes we admire and who would enable us to perform larger arrangements than could be achieved by a six-piece band. For example we have been joined in the past by Wild Bill Davidson (piano) and Russell Procope (saxes) for the 'Echoes Of Ellington' tour. Then there was John Lewis (piano) with Trummy Young (trombone) on the 'Swing Is Here Tour'. We now have, amongst our eleven, Bob Hunt – a student of The Duke's music, a fine arranger of The Duke's music and, into the bargain, is the proud owner of a trombone once the property of Ellington trombonist 'Tricky' Sam Nanton! So we can all play those Ellington arrangements whenever we (or the audience) feel like it!"

Brownie McGhee wrote 'Memories Of My Trip' back in 1958 as a 'Thank You' to Chris and his band after that first ground-breaking tour. Well, Chris Barber's OWN 'trip' has so far extended well beyond 60 years and you can
bet he'll still be 'blowing strong' at his Diamond Jubilee Concerts!