Booking now closed, a few tickets still left on the door.
Yaron Herman (piano), Emile Parisien (sax), Florent Nisse (bass), Ziv Ravitz (drums)
Yaron Herman is an Israeli jazz pianist from France who began his recording career at a young age and was roundly acclaimed.
Some even referred to him as the Keith Jarrett of his generation. Born in Tel Aviv, Israel, on July 12, 1981, he began learning piano relatively late in life as a teenager and, after only a few years of study, moved to Boston, MA, to attend the Berklee College of Music at age 19. He didn't stay long at Berklee, however, and instead moved to Paris, France, where he began his recording career at age 21. Herman's full-length album debut, Takes 2 to Know 1 (2004), was a collaborative effort with drummer Sylvain Ghio released on the label Sketch. He subsequently made his solo album debut with Variations (2006) on Laborie Records. Also in 2006 he performed on the Raphaël Imbert-led Newtopia Project album Suite Elegiaque released on the classical label Zig-Zag Territoires. In 2007 Herman hit the French albums chart with A Time for Everything, the debut recording of the Yaron Herman Trio, comprised also of bassist Matt Brewer and drummer Gerald Cleaver. Released on Laborie Records, the album features original material as well as interpretations of contemporary pop hits by Björk ("Army of Me") and Britney Spears ("Toxic"), plus older yet similarly well-known songs by the Police ("Message in a Bottle") and Leonard Cohen ("Hallelujah"). ~ Jason Birchmeier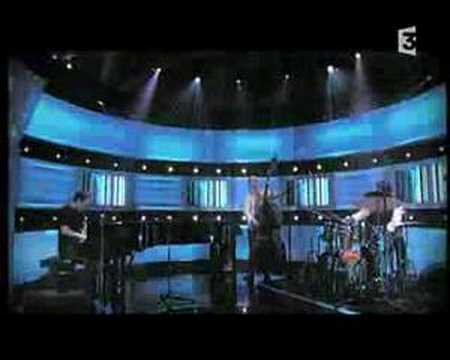 Yaron Herman was born on 12th July 1981 in Tel Aviv. He started out on a promising career as a basketball player on the Israeli national junior team but that was cut short by a serious knee injury which quashed his sporting ambitions. He only decided to take up playing the piano, at the age of 16. His teacher was the renowned Opher Brayer, famous for his methods based on philosophy, mathematics and psychology. Yaron was soon giving his first performances in the most prestigious concert halls in Israel.
At 16, Yaron left for Boston where he planned to enroll at the Berklee College School of Music. He found it didn't satisfy his craving for knowledge and discovery and decided to return to Tel Aviv. On the way back he stopped over in Paris, that evening he met some musicians during a jam session and was given a contract the very next day. He never left Paris from then on. It was a period of musical exchanges and getting to know people while he started to make a name for himself on the parisien musical scene.

His enthusiasm and talent, surprising in someone so young, meant that he quickly became the pianist that everyone was talking about with admiration and stupefaction. He was awarded the Sunside « New Talents » Trophy by unanimous vote. At 21, he recorded his first album « Takes 2 to know 1 »on the Sketch Label alongside Sylvain Ghio. He developed a theory of musical improvisation called « Real Time Composition » which earned him the chance to give a series of lectures at the Sorbonne.

In October 2005 he recorded his first piano solo album « Variations » on the brand new LaBorie Jazz Label on which he presents his « Themes and Variations » concept. Thus each tune, each theme in our collective memory can serve as an excuse for playful, creative innovation, improvisation and invention. Amazingly original and lyrical.

The album received particularly good reviews and Yaron started to give his first solo performances in Europe, in South America, in the United States and in China where he was the first Jazz pianist to play in the Forbidden City in Beijing.

In 2007 he was elected Adami Jazz Talent by the French artistic community. There is the same astonishment each time he plays, his charisma, his enthusiasm and his lyricism leave the audience deeply moved. After more than a hundred solo concerts around the world, Yaron recorded his first album as a trio « A Time for Everything » (launched in October 2007 on the LaBorie Jazz Label) along with Matt Brewer (Gonzalo Rubalcapa's renowned double bass player) and Gerald Cleaver (drummer for Miroslav Vitous and Jacky Terrasson) a subtle blend of jazz , pop and his own personal compositions. His very original version of « Toxic » by Britney Spears and his cover of Police's « Message in a Bottle » brought his music to a wider audience and rapidly won them over. The album received critical acclaim winning « Choc Jazzman » of the year and « Disque d'émoi Jazz Magazine ».

In 2008, the trio toured Europe, the United States and Brazil with impressive results. To mention but a few: the Monterey Festival, the Montreal Jazz Festival, the San Francisco Festival, the Weiner Konzert-Haus, the Auditori in Barcelona, the Juan Les Pins Festival, the Vittoria Gasteiz Festival. At the same time Yaron Herman was working in collaboration with Michel Portal, Bertrand Chamayou, Lars Danielsson, Yael Naim and others, such as Dominic Miller, Sting's guitarist.

In September 2008, Yaron won the award for best new instrumentalist of the year at the « Victoires du Jazz ». His Belgrade concert, in October, was broadcast live in 39 countries on the musical TV channel Mezzo – an incredible media event in the jazz calender. The trio returned to the recording studio after having done more than a hundred concerts together. This time they have invited a string quartet the « Quatuor Ebène », sensational new artists from the world of classical music, to play on their album « Muse », to be released in March 2009 on the LaBorie Jazz Label.

In 2009 Yaron Herman will perform in the Theatre des Champs Elysées in Paris in March, in the Sumida Triphony Hall in Tokyo in April, in China and in numerous festivals in Europe and in the United States. His impressive schedule of concerts across the world (more than 100 concerts played in 30 different countries), his popularity with younger audiences and his dazzling career to date confirm that he is an exceptional phenomenon, unique in the history of piano playing.
Support: The Ronnie Scotts All Stars
+ support tonight: The Ronnie Scotts All Stars with Special Guest vocalists Emma Smith (Mon) and Natalie Williams (Tues)
Monday's band line up: Alex Garnett (tenor sax), James Pearson (piano), Sam Burgess (bass) and Ed Richardson (drums).
Tuesday's band line up: is Alex Garnett (tenor sax), James Pearson (piano), Sam Burgess (bass) and Chris Higginbottom
The Ronnie Scott's All Stars are comprised of some of the greatest talents on the U.K scene, including some of our most regular performers James Pearson (piano), Sam Burgess (bass) and Pedro Segundo (drums)
James Pearson:-
Musical Director at Ronnie Scott's and the owner of a ferocious piano technique coupled with a sense of musicality rarely heard, James Pearson is one of the most exciting musicians to have emerged from the U.K in the last 25 years. After working with him, the late jazz legend Sir John Dankworth declared: "James Pearson is an exceptionally gifted artist. His masterful playing makes him head and shoulders above the rest of his contemporaries. He shows signs of true greatness".
Sam Burgess:-
Double Bass Despite only being in his early 30's, already Sam is a stalwart of the UK jazz scene. As well as appearing on numerous film soundtracks such as 'Bridget Jones's Diary' and 'Hannibal'. Sam's thumping, pounding, relentlessly driving bass lines have been heard accompanying the likes of Bob James, Billy Kilson, Gary Novak, Joe Lock, Dave Kekowski, Guy Barker, Dave O'Higgins, Pete King, Gareth Williams, Claire Martin, Jim Mullen, Alan Barnes, Tim Whitehead, John Horler, Gwyneth Herbert, John Dankworth, The BBC Big Band and Robbie Williams.
Pedro Segundo:-
At 22 years old Pedro Segundo, Portuguese drummer joins the James Pearson Trio at Ronnie Scott's Jazz Club.
Born and raised in Lisbon, picked up the drums seriously at the age of eight starting studying classical percussion a year later. In June 2011 he graduates from Guildhall School of Music and Drama in Timpani and Classical Percussion. His musical ability combines a blend of styles creating a unique sound on the drum set. He has played regularly with Dennis Rollins, Femi Temowo, Mário Franco, Cleveland Watkiss and many other artists touring in festivals all around the globe.
Other regular performers include:
Dave Ohm (drums), Natalie Williams (vocals), Alex Garnett (sax), Nigel Price (guitar), Steve Rushton (drums), Polly Gibbons (vocals), Alistair White (trombone), Gary Baldwin (hammond), Al Cherry (guitar), Matt Home (drums), Alan Barnes (sax), Ralph Salmins (drums), Arnie Somogyi (bass), Mark Smith (bass), James Nisbet (guitar), Pete Long (sax), Gerard Presencer (Trumpet), Dave O'Higgins (sax), Alec Dankworth (bass), Steve Fishwick (trumpet) and others...
To find out more, please go to:
www.myspace.com/thejamespearsontrio