From Monday to Saturday and following the main act, Ronnie Scott's presents UK's finest talents in the Late Late Show. A late night 'blowing session' where invited guests and musical celebrities such as Stevie Wonder, Esperanza Spalding, Marcus Miller, Robert Glasper, Lady Gaga, Christian Scott etc who happen to be in town are showcased – you never know who might drop by! Doors 11pm (weekdays) & 1am (weekends).
Tonight, the Late Late Show presents… The Quentin Collins/Tom Harrison Quintet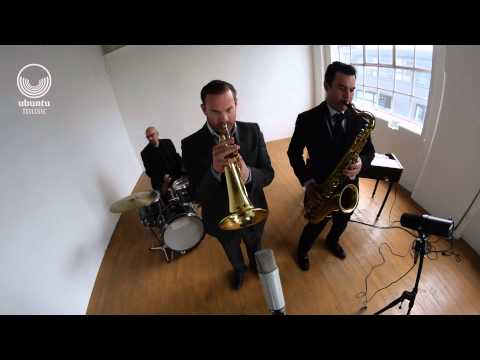 The Quentin Collins/Tom Harrison Quintet Play 'Moon Alley'
Quentin Collins- trumpet & flugelhorn
Tom Harrison- alto sax & flute
Ashley Henry- piano
Alexander Davis- bass
Winston Clifford- drums
For this London Jazz Festival special event, regular Ronnies 'Late, Late Show' host Quentin Collins invites an all-star quintet to the club to celebrate the music of the legendary trumpeter Tom Harrell. In 1985 Harrell released the highly acclaimed album 'Moon Alley' which featured the talents of Kenny Garrett on sax & flute + Kenny Barron on piano.
Quentin & hugely talented alto saxophonist Tom Harrison will pay tribute to this music, bringing their own fresh interpretations to each composition. Featured on piano for this gig is up & coming star Ashley Henry.
Fans of hard-hitting, contemporary straight-ahead jazz will not be disappointed!
QUENTIN COLLINS
"A Trumpeter whose style is a sizzling update of the Morgan/Hubbard approach." MOJO Magazine.
Brought up around the sounds of jazz by a music loving father, Quentin had seen many of the greats by a young age, including Dizzy Gillespie, Lionel Hampton & Dave Brubeck. This had a profound influence upon his decision to become a professional musician.
In 20 years as a professional Quentin has established himself as one of the UK's top Jazz/Commercial trumpeters, having performed, toured & recorded with a plethora of internationally renowned artists across many genres. These include Fred Wesley, Gregory Porter, Mark Ronson, Kyle Eastwood, Omar, Basement Jaxx, Roy Ayers, Alicia Keys, Dennis Rollins and Mulatu Astatke.
Quentin's debut album 'If Not Now, Then When?'on SunlightSquare Records garnered much critical acclaim:
"Proving that Collins knows a thing or two about good songwriting 'If Not Now, Then When?' is an impressively intense debut"
-Jazzwise
"This debut album by England's top young trumpet master is breathtaking from start to finish, and is sure to catapult Quentin to stardom and yet more critical acclaim"
-HMV Magazine
Quentin has subsequently released 2 highly acclaimed albums with QCBA, a band co-lead by tenor titan Brandon Allen, as well as several as featured sideman and composer with the Kyle Eastwood band, with whom he continues to tour across the globe.
TOM HARRISON
For alto saxophonist/composer Tom Harrison, the art of jazz is more than mastery of the instrument, fluency in the repertoire and respect for the tradition. For Tom, the real undertaking is to connect with that which inspired the immortals of jazz, and to cultivate it within his own work. Since leaving college in 2012, Tom has released two critically acclaimed albums and has been nominated for a London Jazz Award. He has collaborated with Terell Stafford, John Goldsby, Jean Toussaint, Robert Mitchell, David Lyttle, Jason Rebello, Denys Baptiste among many others.
"Harrison impresses with his tight, dry-toned, scattergun flurries...he invests his playing with a mature sensibility...fearsomely excellent musicianship" -All About Jazz
"Combining simplicity of melody with sophisticated detail and hints of Traneish spirituality...Harrison is one to watch" -Jazz Journal