Booking now closed, a few tickets still left on the door.
Ronnie Scott's has the pleasure to welcome the French Jazz Violin virtuoso, Didier Lockwood.
Lineup: Didier Lockwood (violin), Antonio Farao (pno), Dave Whitford (bs), Gene Calderazzo (drs).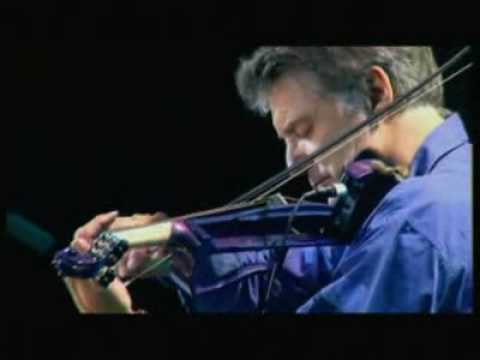 DIDIER LOCKWOOD
Didier Lockwood, both as a composer and an improvisator, has distinguished himself on the international jazz scene with his own very personal and unique sound.
In 2014 Didier Lockwood will celebrate his 40-year career filled with memorable encounters, during which time he recorded over 35 albums in Europe and the United States, and gave more than 3500 concerts in the most prestigious festivals and concert halls around the world.
Born in 1956 in Calais, France, his father, a violinist, transmitted his own passion for the instrument to his son. Towards the end of his classical studies at the Academy of Music, he discovered the freedom of improvisation. At the age of 17, he moved on to the progressive rock scene with the mythical group Magma; then at 21 he turned to jazz where he was discovered by Stephane Grappelli.
His many awards include awards from the SACEM (Societe d'Auteurs, Compositeurs et Musiciens),
the Victoire de la Musique, a Gold Album, the Charles Cros Prize, the Blue Note Award, 3 stars at
Down Beat, Jazzman de Choc, the Gold Diapason, Fip Selection etc. He was also honored with the
title of Officer of Arts and Letters, then was elevated to Knight of the Legion of Honneur.
Inspired by a wide range of music, Didier Lockwood has always remained true to jazz, showcased with his many multi-ethnic musical colors in his album "Globe Trotter" (Universal Jazz label). In 2004 he received the Maurice Yvain prize (SACD) for the entire body of his symphonic work (concerti for violin, for piano, two operas and a cycle of melodies for voice and orchestra). He composes both for the cinema and for contemporary dance and has continued to transmit his passion for improvisation at the CMDL (the International School of Music Didier Lockwood) that he created in 2001, which is situated at Dammarie-les-Lys, France.
To mention a few musicians he collaborated with: Martial Solal, Henri Texier, André Ceccarelli, Miles Davis, Billy Hart, Cecil McBee, Marcel Azzola, Elvin Jones, Philip Catherine, Richard Galliano, Lenny White, Mike Stern, Dave Holland, Steve Gadd, les frères Marsalis, David Liebman, Richard Bohringer,
Gil Goldstein, Biréli Lagrène, Peter Erskine, Jacques Higelin, Jean-Marie Ecay, Uzeb, David Kikoski,
Thierry Eliez, Darryl Hall, Paco Séry, Zao, Benoit Sourisse, Linley Marthe, André Charlier, Antonio
Farao, Guo Guan, Fiona Monbet, Thomas and David Enhco ou Héloïse Lefebvre, Dave Brubeck,
Michel Petrucciani, NHOP, Gordon Beck…
ANTONIO FARAO'
"I'm not often surprised by the recordings of musicians the way I was overwhelmed the first time I heard Antonio Farao' on one of his recent CD's. What amazed me was what I felt inside of me. There is so much warmth, conviction and power to his playing. I was immediately attracted to his harmonic conception, the joy of his rhythms and swing feel and the grace and ingenuity of his melodic improvisational lines. Antonio is not only a fine pianist but a great one."
(Herbie Hancock)
Originally from Rome (Class of 1965), Faraò's musical sensibility together with a remarkable knack for melodic improvisation, have contributed to his reputation as one of Europe's most respected pianists. Faraò's style is unique: flawless technical proficiency, unbridled creativity and exhilarating vitality, and remarkable rhythmic skills.
Antonio Faraò was born into an extremely musical family. His mother was a known painter, his father was a jazz drummer. However, both of them had a great affinity and introduced him to the jazz music. By means of that he grew up listening to musicians such as: Benny Goodman, Count Basie, Due Ellington, Frank Sinatra and last but not least Ella Fitzgerald. Because of the parent's life pioneering Antonio Faraò gained the love for swing from them. First influenced by that style today's influences are different. At the age of 6 he started playing vibraphone which was followed by drum playing. Finally he began to play piano and he joined piano classes with Adriano Giustina and Riccardo Risaliti at a classical school. It was the Giuseppe Verdi Conservatory where Antonio Faraò studied for a degree. The completion of all studies was done after a period of 8 years.
Based on his early interest in Afro-American jazz music Antonio Faraò had idols such as Oscar Peterson and Errol Gardner until he discovered musicians like ANTONIO FARAO' Jazz Pianist/Composer McCoy Tyner, Herbie Hancock, Keith Jarret, Bil Evans, John Coltrane, Miles Davis, Charlie Parker and Thelonious Monk. Just to name the most important examples.
Among the musicians influencing him there also is to mention John Williams, composer of the famous film music for ET, Stars Wars Indiana Jones …
The "Jazz four Roses Competition Price" was awarded to him at the Ciak Theatre in Milano in 1991. The most prestigious "Competition of jazz piano Martial Solal" a competition of the city Paris which takes place only every ten years invited a small number of top international piano talents. Antonio Faraò as one of those talents won that extraordinary competition in 1998. He recorded for the German label "Enja records" three tremendous albums were release: "Black Inside" (1998), Thorn (2001) with Jack DeJohnette on drums, Chris Potter on tenor sax and Drew Gress on bass. On 2002 the album "Next stories" went public. He recorded 4 albums with the label "Cam Record" included "Far out" in quartet with Bob Berg.
In 2010 he signs a first album with the labels Jando Music and Cristal Record and in 2013 he released his cd "Evan" with Joe Lovano, Ira Coleman and Jack Dejohnette.
Antonio Faraò has worked with a number of great jazz musicians including a recording at the famous Abbey Road Studios in London with André Ceccarelli and the London Symphony Orchestra for the soundtrack of the movie "Anthony Zimmer" with the French actress Sophie Marceau in January of 2005. He has performed and registered with the likes of Franco Ambrosetti, André Ceccarelli, Daniel Humair, Mike Clark, Gary Bartz, Lee Konitz, Steve Grossman, Christian Mc Bride, Chico Freeman, Miroslav Vitous, John Abercrombie, Richard Galliano, Toots Thielemans, Jack Dejohnette, Dave Liebman, Didier Lockwood, Benny Golson, Joe Lovano, Johnny Griffin, George Garzone, Cecil Mc Bee…and with the famous italian pop singer Mina.
His latest album Evan registered in NY with Joe Lovano, Ira Coleman and Jack Dejohnette features an extraordinary cast of musicans, that follows as a natural consequence of their affinity and numerous past collaborations and recordings.
In 2010 he signs a first album with the labels Jando Music and Cristal Record and in 2013 he released his cd "Evan" with Joe Lovano, Ira Coleman and Jack Dejohnette
THEY SAID
"The best young piano player to come up for years" Kenny Kirkland
"Pegged years ago by the late Kenny Kirkland as a rising piano star, Antonio Faraò has realized his potential and established himself as one of Europe's most respected young players."
Jazztimes Doug Ramsey
"He's an exuberant, inventive, marvellously swinging pianist .. there's an infectious joy in his swinging, and melodic playing that seems to owe nothing to any obvious influence. No boundaries crossed, but its is really fine trio." The Irish Time
"Faraò is such a superb pianist that it's difficult, at times, not to be swept up in the sheer virtuosic dazzle of his playing."
Ray Comiskey
"...Since listening to these records it's clear that Faraò is not a pianist like the others: his manner to play is very personal, expressive and involving, he's able to maintain alive the attention of the listeners capturing them with the fluidity of the phrasing, with the lightness of the touch and with his virtuosity never ended in itself, but which becomes a means to create improvisations full of fantasy and dynamism..." www.jazzer.it
Support: The Ronnie Scotts All Stars
+ support tonight: The Ronnie Scotts All Stars with Special Guest vocalists Emma Smith (Mon) and Natalie Williams (Tues)
Monday's band line up: Alex Garnett (tenor sax), James Pearson (piano), Sam Burgess (bass) and Ed Richardson (drums).
Tuesday's band line up: is Alex Garnett (tenor sax), James Pearson (piano), Sam Burgess (bass) and Chris Higginbottom
The Ronnie Scott's All Stars are comprised of some of the greatest talents on the U.K scene, including some of our most regular performers James Pearson (piano), Sam Burgess (bass) and Pedro Segundo (drums)
James Pearson:-
Musical Director at Ronnie Scott's and the owner of a ferocious piano technique coupled with a sense of musicality rarely heard, James Pearson is one of the most exciting musicians to have emerged from the U.K in the last 25 years. After working with him, the late jazz legend Sir John Dankworth declared: "James Pearson is an exceptionally gifted artist. His masterful playing makes him head and shoulders above the rest of his contemporaries. He shows signs of true greatness".
Sam Burgess:-
Double Bass Despite only being in his early 30's, already Sam is a stalwart of the UK jazz scene. As well as appearing on numerous film soundtracks such as 'Bridget Jones's Diary' and 'Hannibal'. Sam's thumping, pounding, relentlessly driving bass lines have been heard accompanying the likes of Bob James, Billy Kilson, Gary Novak, Joe Lock, Dave Kekowski, Guy Barker, Dave O'Higgins, Pete King, Gareth Williams, Claire Martin, Jim Mullen, Alan Barnes, Tim Whitehead, John Horler, Gwyneth Herbert, John Dankworth, The BBC Big Band and Robbie Williams.
Pedro Segundo:-
At 22 years old Pedro Segundo, Portuguese drummer joins the James Pearson Trio at Ronnie Scott's Jazz Club.
Born and raised in Lisbon, picked up the drums seriously at the age of eight starting studying classical percussion a year later. In June 2011 he graduates from Guildhall School of Music and Drama in Timpani and Classical Percussion. His musical ability combines a blend of styles creating a unique sound on the drum set. He has played regularly with Dennis Rollins, Femi Temowo, Mário Franco, Cleveland Watkiss and many other artists touring in festivals all around the globe.
Other regular performers include:
Dave Ohm (drums), Natalie Williams (vocals), Alex Garnett (sax), Nigel Price (guitar), Steve Rushton (drums), Polly Gibbons (vocals), Alistair White (trombone), Gary Baldwin (hammond), Al Cherry (guitar), Matt Home (drums), Alan Barnes (sax), Ralph Salmins (drums), Arnie Somogyi (bass), Mark Smith (bass), James Nisbet (guitar), Pete Long (sax), Gerard Presencer (Trumpet), Dave O'Higgins (sax), Alec Dankworth (bass), Steve Fishwick (trumpet) and others...
To find out more, please go to:
www.myspace.com/thejamespearsontrio