Booking now closed, a few tickets still left on the door.
Darius Brubeck (piano), Dave O'Higgins (saxes), Matt Ridley (Bass) and Wesley Gibbens (Drums)
The DARIUS BRUBECK QUARTET is celebrating a decade of togetherness and will be launching their second cd, "YEARS AGO" at Ronnie Scott's on February 13th. Darius, the eldest son of the late, great Dave Brubeck, is a noted jazz pianist, composer, educator and band-leader in his own right and appears here leading his top-notch quartet featuring long-running collaborator and peerless saxophonist Dave O'Higgins as they launch their new album, Years Ago. Expect a mixture of jazz standards, South African hits and Brubeck originals all delivered with panache and swing from one of the finest quartets in the business.
"Darius showed without doubt that he is a highly accomplished pianist and composer-but Dave O'Higgins must take huge credit for his contribution (as should Ridley & Gibbens) – as the combination of Brubeck and O'Higgins is certainly among the best piano/sax partnerships in the UK." - Tim Dickeson, JAZZWISE MAY 2015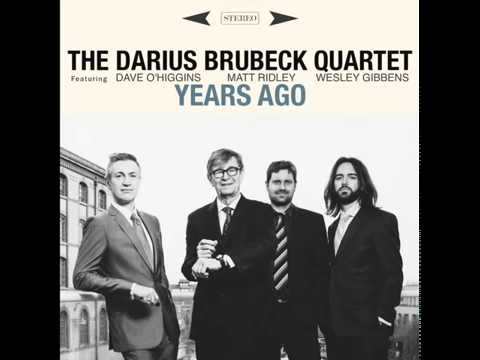 The title track 'Years Ago', by the late South African great, Duke Makasi, implies reflection and continuity as does the group's repertoire. The Quartet recently thrilled audiences at sold-out concerts at the Cheltenham, Cork, Swansea and Glasgow Jazz Festivals, as well as local venues throughout the UK and overseas. Every member of the group is deservedly featured and the group dynamic continues to grow. Darius' informative comments between tunes bring the audience closer to the music. Building on the popularity and critical success of their 2014 CD, Cathy's Summer, this experienced group always delivers. No one remembers a performance that didn't end with a standing ovation.
DARIUS BRUBECK
Playing to sold-out houses at regional festivals and clubs, the quartet's acoustic sound is melodic, spontaneous, rhythmic and engaging. While Darius is known for representing his famous father's musical legacy and for pioneering jazz education in South Africa, he has always performed his own compositions. Following the critical and popular success of "Cathy's Summer", the quartet is releasing a new album "Years Ago" for its concerts in 2016.
Darius is interested in music from several traditions; the direct emotion of South African jazz, the improvisation and rhythm of Asian musics and the lyricism and harmony of the European tradition. This quartet, which began in London, 10 years ago, plays a mixture of original music, jazz standards, Dave Brubeck hits and South African jazz.

Some reviews from 2015:

"Darius Brubeck —- "weaved his magic and put a satisfied smile on the faces of the audience —— Brubeck's combo drummer Wesley Gibbens and double bass player Matt Ridley, had the suitable groove and swing down pat – whether the journey led to an ancient standard, another Ellington classic or the thoroughly worth listening to original compositions by Darius Brubeck. The evening was worth a recommendation purely because of the magnificent Dave O'Higgins alone."

Saarbrücker Zeitung, November 12 2015
"The Darius Brubeck Quartet opened with Blue Rondo A La Turk and continued with a mix of Dave Brubeck numbers and catchy originals including Cathy's Summer. Brubeck has an easy conversational rapport with the audience —-the chemistry of this quartet has to be seen live to be appreciated. With Dave O'Higgins on sax, Matt Ridley on double bass, Wesley Gibbens on drums and of course Brubeck on piano this band never fails to delight. They closed with a majestic delivery of Take Five to rousing applause from the Grand Hall's capacity audience."
Brian Payne, Jazz Journal October

"the combination of Brubeck & O'Higgins is certainly among the best piano/sax partnerships in the UK."

Jazzwise, May 2015
"Overall, the gig was a clear success and vindicated Brubeck's decision to present an album largely of originals."
Jamie Fyffe, Jazzwise, January 2015