Booking now closed, a few tickets still left on the door.
Guggenheim Fellow / pianist / composer / educator Kenny Werner has been a powerful force in jazz for decades, he teams up with David Sanchez Grammy award winning saxophone player to bring the "Unknown" featuring Puerto-Rican bassist Ricardo Rodriguez, and US drummer E.J. Strickland.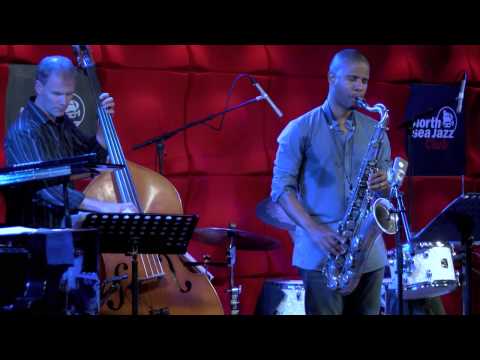 David Sanchez and Kenny Werner have formed an exciting new band based on their close and unique relationship forged during years of playing together in Kenny's quintet. This new group melds Kenny's and David's musical histories and visions to create a vibrant new World Music sound. Drummer E.J. Strickland and bassist Ricky Rodriguez have both played extensively with David and bring a fresh perspective to Kenny's music. The result is a quartet both adventurous and accessible, journeying into The Unknown" in every concert.
Kenny Werner
Kenny Werner is a world-class pianist and composer. His prolific output of compositions, recordings and publications continue to impact audiences around the world.
Kenny was recently awarded the 2010 Guggenheim Fellowship Award for his seminal work, No Beginning No End. No Beginning No End is a musical journey exploring tragedy and loss, death and transition, and the path from one lifetime to the next. Utilizing over 70 musicians, Kenny's third album for Half Note Records is an expansive composition featuring Joe Lovano, Judy Silvano, Wind Ensemble, Choir and String Quartet.
Born in Brooklyn, NY on November 19, 1951 and then growing up in Oceanside, Long Island, Kenny began playing and performing at a young age, first recording on television at the age of 11. Although he studied classical piano as a child, he enjoyed playing anything he heard on the radio. In high school and his first years of college he attended the Manhattan School of Music as a classical piano major.
His natural instinct for improvisation led Kenny to the Berklee School of Music in 1970.
There he sought tutelage of the renowned piano teacher Madame Chaloff. A Her gracious wisdom and inspiration became a driving force in Kenny's conception: A music conscious of its spiritual intent and essence.
From Boston, Kenny traveled to Brazil with the saxophonist Victor Assis Brasil. There he met Victor's twin brother, Brazilian pianist Joao Assis Brasil. He studied with Joao, who provided another piece of the puzzle for Kenny's conception that would lead to Effortless Mastery, his landmark opus on how to allow the master musician from within to manifest. The Book was published in 1996. It recently became available as an ebook on kindle and in Ibooks.
Kenny started his own trio in 1981 with drummer Tom Rainey and bassist Ratzo Harris. The Kenny Werner Trio matured for fourteen years, wowing audiences in America and Europe and recording four albums along the way.

Kenny has written many original compositions featuring trios and other small group configurations, but in the mid 1980's, he became the pianist for the Mel Lewis Orchestra
(currently known as the Village Vanguard Orchestra). Challenged by Mel and Bob Brookmeyer to write for the band, he produced his first compositions and arrangements for jazz orchestra, consequently leading him to write for the major bands in Europe including the Cologne, Danish, and Stockholm Jazz Orchestras, The Umo Jazz Orchestra of Finland and several times as the guest composer and soloist with the Metropole Orchestra of Holland.
He's release two CDs with the Brussels Jazz Orchestra. One released in 2011 is called "Institute Of Higher Learning." Werner has had many commissions to write for large ensembles such as jazz orchestras, full orchestras and most recently, wind ensemble, choir and string quartet as featured on his latest CD, No Beginning, No End. He continues to release Cds . A new solo cd and new Quintet Cd is set for release in 2012.
Several outstanding musical partnerships began in the 1990's. Kenny continues to play duo with Toots Thielemans, the legendary harmonica player. For twenty years he has played with and arranged for Betty Buckley, a Broadway legend. They made six albums together and she has sung his arrangements for small band and orchestras across the globe. He also has had a nearly forty-year friendship and musical collaboration with Joe Lovano. They have recorded
on a number of each other's projects.

In 2000, Kenny formed a new trio with Ari Hoenig on drums and Johannes Weidenmueller on bass. They played nearly a decade together and released three albums, with Kenny acting as composer, arranger, and pianist. Their last album, Peace – Live at the Blue Note, released in 2004, began a wonderful relationship with Half Note Records, the recording arm of the Blue Note Jazz Club. He created three CDs before the release of his masterpiece, No Beginning
No End. In 2007, Kenny Werner released his first album for Blue Note Records.Lawn Chair Society, featuring Chris Potter, Dave Douglas, Scott Colley, and Brian Blade, received critical acclaim for its fusion of electro and acoustic elements. For several years now he has also toured with his quintet featuring David Sanchez on sax, the legendary trumpet player Randy Brecker, Antonio Sanchez on drums and Scott Colley on bass. There recent release on Half
Note is titled "Balloons."
Quincy Jones has said of Kenny, "Perfection, 360 degrees of soul and science in one human being. My kind of musician."
Kenny groundbreaking work on Improvisation, Effortless Mastery – Liberating the Master Musician Within, was published in 1996.Using his life experiences as a microscope into the artist's mind, Effortless Mastery is a guide to distill the emotional, spiritual, and
psychological aspects of an artists life. Today it is one of the most widely read books on music and improvisation, helping thousands of musicians around the world unlock their talent and potential.The book is required reading at many universities. Werner, without intention,
touched off a revolution of inspiring musicians to do inner work on the mind, body, and soul in attempt to upgrade their musical experience from the mundane to the profound. The book is also popular with artists of other mediums and business professionals. Kenny continues to teach and give clinics in the United States and abroad. He is currently an Artist-in-Residence at New York University.
Kenny Werner's influence is unsurpassed. He has impacted an entire generation of musicians and artists. Despite his creative output, Kenny is still focused on the music."I am still more and more aware of the true purpose of the music and the people who play it: to heal and unite the planet.


David Sanchez
David Sanchez took up the conga when he was eight and started playing tenor at age 12. He graduated from a performing arts high school in 1986, spent a year studying psychology, and then moved to New York City in 1988, having decided to become a musician. Sanchez attended Rutgers University, studying with Kenny Barron, Ted Dunbar, and John Purcell.
After a period freelancing in New York with many top Latin players (including Paquito D'Rivera and Claudio Roditi), Sanchez joined Dizzy Gillespie's United Nation Orchestra in
1990, also getting the opportunity to play with Dizzy's small group. Since then he has toured with the Philip Morris SuperBand, recorded with Slide Hampton's Jazz Masters, Charlie Sepulveda, Kenny Drew, Jr., Ryan Kisor, Danilo Perez, Rachel Z, and Hilton Ruiz (among others), and headed his own sessions for Columbia. David Sanchez is a tenor player whose music mixes together Afro-Cuban rhythms with advanced bebop on releases like 1994's
Sketches of Dreams and 1996's Street Scenes. Obsession followed two years later and Melaza in mid-2000. Since that time, Sanchez has kept busy releasing Travesía in 2001, Coral in 2004 and Cultural Survival in 2008.
Support: The Ronnie Scotts All Stars
+ support tonight: The Ronnie Scotts All Stars with Special Guest vocalists Emma Smith (Mon) and Natalie Williams (Tues)
Monday's band line up: Alex Garnett (tenor sax), James Pearson (piano), Sam Burgess (bass) and Ed Richardson (drums).
Tuesday's band line up: is Alex Garnett (tenor sax), James Pearson (piano), Sam Burgess (bass) and Chris Higginbottom
The Ronnie Scott's All Stars are comprised of some of the greatest talents on the U.K scene, including some of our most regular performers James Pearson (piano), Sam Burgess (bass) and Pedro Segundo (drums)
James Pearson:-
Musical Director at Ronnie Scott's and the owner of a ferocious piano technique coupled with a sense of musicality rarely heard, James Pearson is one of the most exciting musicians to have emerged from the U.K in the last 25 years. After working with him, the late jazz legend Sir John Dankworth declared: "James Pearson is an exceptionally gifted artist. His masterful playing makes him head and shoulders above the rest of his contemporaries. He shows signs of true greatness".
Sam Burgess:-
Double Bass Despite only being in his early 30's, already Sam is a stalwart of the UK jazz scene. As well as appearing on numerous film soundtracks such as 'Bridget Jones's Diary' and 'Hannibal'. Sam's thumping, pounding, relentlessly driving bass lines have been heard accompanying the likes of Bob James, Billy Kilson, Gary Novak, Joe Lock, Dave Kekowski, Guy Barker, Dave O'Higgins, Pete King, Gareth Williams, Claire Martin, Jim Mullen, Alan Barnes, Tim Whitehead, John Horler, Gwyneth Herbert, John Dankworth, The BBC Big Band and Robbie Williams.
Pedro Segundo:-
At 22 years old Pedro Segundo, Portuguese drummer joins the James Pearson Trio at Ronnie Scott's Jazz Club.
Born and raised in Lisbon, picked up the drums seriously at the age of eight starting studying classical percussion a year later. In June 2011 he graduates from Guildhall School of Music and Drama in Timpani and Classical Percussion. His musical ability combines a blend of styles creating a unique sound on the drum set. He has played regularly with Dennis Rollins, Femi Temowo, Mário Franco, Cleveland Watkiss and many other artists touring in festivals all around the globe.
Other regular performers include:
Dave Ohm (drums), Natalie Williams (vocals), Alex Garnett (sax), Nigel Price (guitar), Steve Rushton (drums), Polly Gibbons (vocals), Alistair White (trombone), Gary Baldwin (hammond), Al Cherry (guitar), Matt Home (drums), Alan Barnes (sax), Ralph Salmins (drums), Arnie Somogyi (bass), Mark Smith (bass), James Nisbet (guitar), Pete Long (sax), Gerard Presencer (Trumpet), Dave O'Higgins (sax), Alec Dankworth (bass), Steve Fishwick (trumpet) and others...
To find out more, please go to:
www.myspace.com/thejamespearsontrio