Booking now closed, a few tickets still left on the door.
Line up confirmed: SaxesNigel Hitchcock
Sammy Maine
Paul Booth
Graeme Blevins
Claire McInerneyTrumpetsPat White
Andy Greenwood
Tom Walsh
Martin ShawTrombonesMark Nightingale
Robbie Harvey
Neil Sidwell
Ade HallowellGareth Lockrane - Flute
Gwilym Simcock - Piano
Miles Bould - Percussion
Laurence Cottle - Bass
Ian Thomas - Drums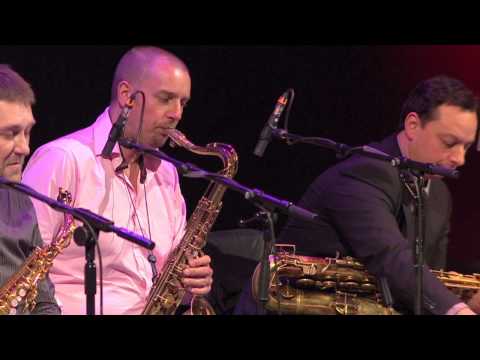 Bass guitar virtuoso Laurence Cottle returns to Ronnie Scott's with "Portrait Of Jaco" a big band project that features stunning recreations of the great bassists ensemble pieces. Cottle, like almost every electric bassist who plays jazz, has been influenced by the former Weather Report star's style that extended the range of Leo Fender's humble four string bass guitar to include high pitched harmonics, lead melody playing and of course intricate sax-like solos.
Yet Pastorius' musical legacy goes way beyond his groundbreaking chops, and Cottle has created brand new scores that magnify the smallest musical details that often result in tender harmonic flourishes or dazzling multi-layered contrapuntal melody lines.
Among Cottle's inventive charts is a reinterpretation of Jaco's infamous take on the tricky Miles Davis bebop head 'Donna Lee', which he originally played in a duo with just Don Alias on congas.
This newly minted version sees the entire band tackle the twisting unison melody before Cottle's transcription of Pastorius' amazing solo is spread amongst the horns to create a mesmerising call and response, sub-classical mini suite. Cottle himself is a commanding presence on fretless, evoking Pastorius' signature sound via punchy, syncopated bass lines and many fleet fingered runs across the neck of his bass, also reminding of just how far ahead of the curve the Florida-born genius really was.
Last year's star-studded band included the likes of saxophonists Alex Garnett, Nigel Hitchcock and the outstanding Gareth Lockrane on flute so expect a killer lineup again this year.
Yet the real star of the show is Pastorius' sometimes overlooked music that through Cottle's scores illuminate the likes of 'Continuum', 'Portrait Of Tracey', 'Used To Be A Cha Cha', and forgotten gems such as 'Mysterious Mountain" and 'Reza' with a new light, love and lustre. This is a world-class band that needs to be heard by a whole new generation and Cottle may just be the man to pass on the flame of this mighty mind-expanding, groove heavy, punk jazz.
Support: The Ronnie Scotts All Stars
+ support tonight: The Ronnie Scotts All Stars with Special Guest vocalists Emma Smith (Mon) and Natalie Williams (Tues)
Monday's band line up: Alex Garnett (tenor sax), James Pearson (piano), Sam Burgess (bass) and Ed Richardson (drums).
Tuesday's band line up: is Alex Garnett (tenor sax), James Pearson (piano), Sam Burgess (bass) and Chris Higginbottom
The Ronnie Scott's All Stars are comprised of some of the greatest talents on the U.K scene, including some of our most regular performers James Pearson (piano), Sam Burgess (bass) and Pedro Segundo (drums)
James Pearson:-
Musical Director at Ronnie Scott's and the owner of a ferocious piano technique coupled with a sense of musicality rarely heard, James Pearson is one of the most exciting musicians to have emerged from the U.K in the last 25 years. After working with him, the late jazz legend Sir John Dankworth declared: "James Pearson is an exceptionally gifted artist. His masterful playing makes him head and shoulders above the rest of his contemporaries. He shows signs of true greatness".
Sam Burgess:-
Double Bass Despite only being in his early 30's, already Sam is a stalwart of the UK jazz scene. As well as appearing on numerous film soundtracks such as 'Bridget Jones's Diary' and 'Hannibal'. Sam's thumping, pounding, relentlessly driving bass lines have been heard accompanying the likes of Bob James, Billy Kilson, Gary Novak, Joe Lock, Dave Kekowski, Guy Barker, Dave O'Higgins, Pete King, Gareth Williams, Claire Martin, Jim Mullen, Alan Barnes, Tim Whitehead, John Horler, Gwyneth Herbert, John Dankworth, The BBC Big Band and Robbie Williams.
Pedro Segundo:-
At 22 years old Pedro Segundo, Portuguese drummer joins the James Pearson Trio at Ronnie Scott's Jazz Club.
Born and raised in Lisbon, picked up the drums seriously at the age of eight starting studying classical percussion a year later. In June 2011 he graduates from Guildhall School of Music and Drama in Timpani and Classical Percussion. His musical ability combines a blend of styles creating a unique sound on the drum set. He has played regularly with Dennis Rollins, Femi Temowo, Mário Franco, Cleveland Watkiss and many other artists touring in festivals all around the globe.
Other regular performers include:
Dave Ohm (drums), Natalie Williams (vocals), Alex Garnett (sax), Nigel Price (guitar), Steve Rushton (drums), Polly Gibbons (vocals), Alistair White (trombone), Gary Baldwin (hammond), Al Cherry (guitar), Matt Home (drums), Alan Barnes (sax), Ralph Salmins (drums), Arnie Somogyi (bass), Mark Smith (bass), James Nisbet (guitar), Pete Long (sax), Gerard Presencer (Trumpet), Dave O'Higgins (sax), Alec Dankworth (bass), Steve Fishwick (trumpet) and others...
To find out more, please go to:
www.myspace.com/thejamespearsontrio