Booking now closed, a few tickets still left on the door.
Line up confirmed: ROY AYERS - Vibraphone, JOHN PRESSLEY - Vocals / TM, DONALD NICKS - Bass, BERNARD DAVIS - Drums & EVERETT FREEMAN JR. - Keyboard
Once one of the most visible and winning jazz vibraphonists of the 1960s, then an R&B bandleader in the 1970s and '80s, Roy Ayers' reputation s now that of one of the prophets of acid jazz, a man decades ahead of his time.
Perhaps acid jazz would have emerged even if Roy Ayers had never existed, but it certainly would have sounded different. Scores of DJs, hip-hoppers, acid jazzers, and others have incorporated samples of music created by Ayers into their own work, making his sound an integral part of these emerging musical forms. His status as the of acid jazz, or jazz funk, or label you prefer, represents a second life in the career of vibraphonist and composer Ayers, who first rocked American dance floors in the 1970s with such anthems as "Everybody Loves the Sunshine" and "Freaky Deaky." Twenty years later, Ayers is as ubiquitous in the dance clubs as he ever was.
Video of Roy Ayers at Ronnie Scott's in 1988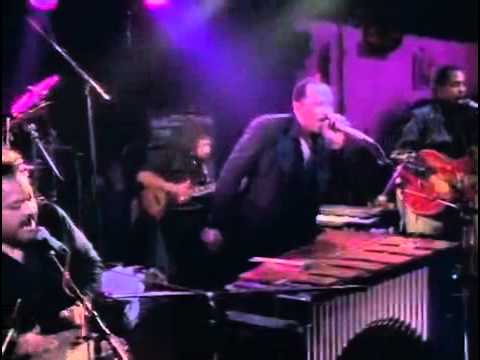 Support: Dave Lewis Quartet
Dave Lewis Quartet
Dave is an American saxophonist , resident in the UK.
A consummate, passionate performer who is well respected in the fields of Jazz/Dance/Soul & Rock. Dave has toured and recorded throughout the States, Europe and Japan, and has made numerous TV, Radio and Video appearances.
Since living in the UK he's worked with John Martyn, Bryan Ferry, Tommy Chase, John Mayall, Lamont Dozier and Eric Clapton amongst many others.
Dave's playing is soulful and funky with a natural affinity to the Jazz/ R&B greats – such as Dexter Gordon, King Curtis & Joe Henderson. He is known for his distinctive tenor sound and individual approach.
An Honours Grad from Berklee College of Music who's a well known in demand player on the London jazz scene.
Dave currently leads his band seven piece '1UP' as well as playing & recording with the Blockheads.