Booking now closed, a few tickets still left on the door.
Two shows per night for legendary outfit. On stage timings 7.30pm & 10.15pm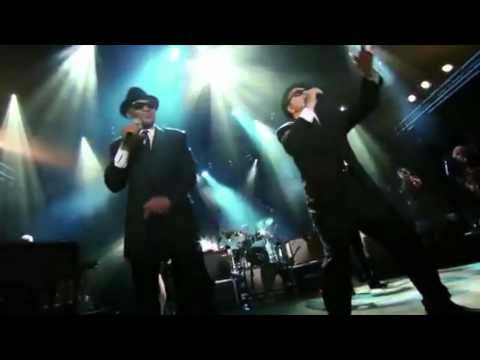 STEVE "THE COLONEL" CROPPER guitar
"BLUE" LOU MARINI sax
LEON "THE LION" PENDARVIS keyboards
"SMOKIN" JOHN TROPEA guitar
ERIC "THE RED" UDEL bass
LEE "FUNKEYTIME" FINKELSTEIN drums
LARRY "TROMBONIUS MAXIMUS" FARRELL trombone
STEVE "CATFISH" HOWARD trumpet
BOBBY "SWEET SOUL" HARDEN lead vocals
ROB "THE HONEYDRIPPER" PAPAROZZI lead vocals, harmonica
TOMMY "PIPES" McDONNELL lead vocals
*** THE "ORIGINAL" BLUES BROTHERS BAND BIO ***
It was always about the music. Jake and Elwood may have fronted the show, but to back them up they made sure to have the meanest, sickest line-up of badass blues cats ever assembled. These were the men behind Otis Redding, Booker T & the MGs, Muddy Waters, James Cotton, Wilson Pickett, Sam & Dave, and the SNL Band -- just to name a few. These players have since emerged as a powerful entity in their own right, and although scheduling makes it difficult, they have played together sporadically over the past three decades. Since regrouping in 1988, the 'Original' Blues Brothers Band has triumphantly performed in international venues large and small, headlining at most of the jazz and blues festivals throughout Europe, such as Nimes Fair, France; North Sea Jazz Festival, the Netherlands; Pistoia Blues Festival, Italy; and, most famously, at the Montreux Jazz Festival in Switzerland, playing to audiences estimated up to 60,000 in one performance. Book them for a night of masterful, magical, chest-thumpin' blues, gospel, and soul. ...
STEVE "The Colonel" CROPPER the best-known soul guitarist in the world. The original member of the Blues Brothers band. A Major figure in the Southern soul movement of the '60s. In the '80s, he rode the classic STAX sound back to popularity with a new audience when actors John Belushi and Dan Aykroyd tapped him for service in The Blues Brothers.
"Blue" LOU MARINI one of the most sought after session horn players on saxophone, flute and clarinet. the original member of the Blues Brothers band.
LEON "The Lion" PENDARVIS the humble musical genius, Band Leader, arranger, composer and keyboard extraordinaire has performed, composed, written and recorded with everyone in the Music Business and besides the original member of the Blues Brothers band.
"Smokin" JOHN TROPEA is a guitarist with extensive experience in the rock, pop, and jazz genres. Tropea has written for and played with major recording artists from around the world.
ERIC "The Red" UDEL a dynamic performer with looks that match his incredible talent, has evolved into a superb musician.
LEE "Funkeytime" FINKELSTEIN is an in-demand drummer in New York City who currently plays with the Original Blues Brothers.
LARRY "Trombonius Maximus" FARRELL is a real musical character. He is one of the top horn players on call in New York City and always in high demand and very esteemed and respected.
STEVE "Catfish" HOWARD comes to the Blues Brothers Band after carving out a strong history rich in the culture and music of New Orleans and performing/touring with the likes of Dr. John and Paul McCartney's Band-Wings.
BOBBY "Sweet Soul" HARDEN the Soul Man from NY. Most acclaimed soul singing sensation, is thrilling audiences globally as lead singer of the world-famous Original Blues Brothers Band.
ROB "The Honeydripper" PAPAROZZI is a Grammy nominated American harmonica player and vocalist from New Jersey. A former member of the "original" Blues Brothers band
+support: Al Cherry Quartet
AL CHERRY QUARTET
Monday: feat. Al Cherry - guitar, Phil Peskett (piano), Sam Burgess (bass) and Ian Thomas (drums)
Tuesday: feat. Al Cherry - guitar, Ross Stanley (piano), Chris Hill (bass) and Ed Richardson (drums)
'Al Cherry is a genius at creating the right setting' (The Times)

'Guitarist Al Cherry outstanding all night' (Financial Times, Ronnie Scotts gig review)
Al Cherry is one of the most in-demand guitarists on the London jazz and blues circuit today. He has many years of performance and studio experience, has made numerous TV appearances, and has toured internationally with a variety of bands.

As well as regular appearances fronting his own band at Ronnie Scotts, artists he currently works with include Natalie Williams, Guy Barker, Gwyneth Herbert, Carleen Anderson, Marti Pellow and Lisa Stansfield. He has also appeared on countless albums and recordings over the years.

He was recently a featured soloist in Guy Barker's band for Paloma Faith's electric prom at The Albert Hall, which was a live national BBC television broadcast. He also appeared recently in the house band for the national TV broadcast of the Eurovision 60th anniversary concert.

He started playing guitar aged 4 years old, developing an early interest in Blues and Jazz. At the age of 13 he was awarded a scholarship by Fender, and as a result was the subject of a BBC documentary. He went on to gain a first class Honours degree in Jazz and Classical guitar from the Guildhall.

His playing draws on an eclectic mix of influences from Jazz and Blues to Country, and his quartet features his own unique take on standards from the jazz repertoire, as well as versions of songs by artists from Stevie Wonder to Bob Dylan.