Booking now closed, a few tickets still left on the door.
Patricia Barber (voc, pno), Larry Kohut (bs), John Kregor (gt)
"The coolest singer/songwriter around." -LOS ANGELES TIMES
"Cross Diana Krall with Susan Sontag, and you get Patricia Barber, whose throaty, come-hither vocals and coolly incisive piano are displayed to devastating effect." -TIME MAGAZINE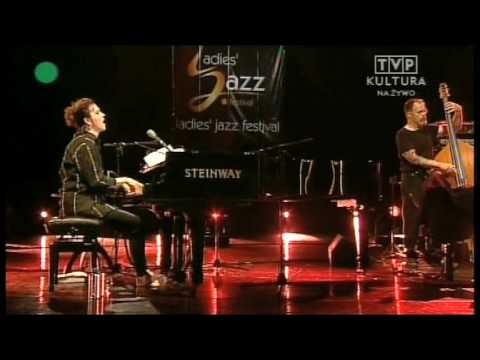 In 2011 Patricia Barber has just finished a new 'live' album of the Patricia Barber Quartet recorded ' by Chris Grabowski at the wildly popular Green Mill residency. Monday Night, vol2 is available through her website: patriciabarber.com She is also putting the finishing touches on other Floyd Records projects, one a DVD entitled Patricia Barber & Kenny Werner-- 'Live' in Concert . This chronicles a resplendent evening with Patricia and Kenny and two 9' Steinway pianos at the sold-out 1000 seat Pick-Staiger Auditorium--this DVD will be available in the spring. Patricia is also and mostly busy finishing a set of all original songs for an eagerly awaited album to be called, Synchronicity due out in the fall. These days you wil hear Patricia playing most often with her Quartet, the pbq, with Neal Alger on guitar, Larry Kohut on bass, and Eric Montzka on drums. This Quartet continues to develop new, innovative ways of presenting jazz and remains the crowd favorite. Patricia is also performing concerts with personnel stepping into the Quartet from Paris, NY, Fargo, Brazil and beyond. She is performing with classical musicians, solo, leading a variety of different enesembles and composing commission works for musicals, classical groups, singers, and jazz ensembles. This year's bookings have her all over the world, starting with the historic double-bill with Kenny Werner, followed by a residency at the Jazz Standard in NY and continuing the year in Macedonia, Turkey, San Francisco, South Africa, etc. and of course, France.
For most concert artists, this would be a light schedule, and she likes it that way. It leaves her time to read, think, compose, work with her trio and quartet at the legendary Green Mill in Chicago on Monday nights, and live her life in a self-designed art orbit, allowing her to pen some of the most original and lasting music being written anywhere. In 2003, Barber received the first Guggenheim Fellowship ever awarded to a songwriter. The task, to compose a song cycle based on Ovid's Metamorphosis, resulted in the category-defying Mythologies for jazz quintet, child rappers, gospel choir, and backup singers. Mythologies, promoted with major sponsorship by Blue Note Records, and The Poetry Foundation and the Museum of Modern Art, like others of Barber's recording projects and concerts, garnered spectacular reviews while leaving a few dazed and confused. This seems to be Barber's path--to break ground by devoting her life to building repertoire that is by turns smart, funny, sad, trashy, elegant, alternative, contemporary/classical, hip, and cutting-edge, but in the end is truly and deeply jazz.
Barber is a study in contradictions. She is one of the most highly sought-after concert artists in jazz, and one of the most difficult to get. Her music is uniquely hers (and her fans'); she doesn't explain it or herself (most probably the reason she has never been nominated for a Grammy). She doesn't have a TV, she isn't a voting member of NARAS. She is at once a big success and a well-kept secret. She will turn down most offers, choosing instead to study, compose, practice the piano, polish a language, or tend to her family and garden. She is elusive but pulls out all the stops at the few venues where she chooses to perform throughout the year. She regularly sells out concerts in European Capitals from Lisbon to Moscow. Paris is her musical second home.
Barber's early days were spent playing at Chicago's legendary Gold Star Sardine Bar. As early as 1994, Bill Zehme of Esquire Magazine wrote "Patricia Barber makes jazz the way Tiffany makes crystal -- sleek and smart and dazzling. You must hush the world when she plays and listen to that which no one ever thought to do before with notes, with voice, with style penultimate. She is, for my money, the best jazz performer currently working the planet." At one moment her voice is ploughing dusky low registers, at another careening the upper stratospheres; it has drawn comparison to "chilled bourbon," and been called "a pure dark whisper straight up from the soul." She has long since evolved from the fine-tuned nightclub artist of the Gold Star Sardine Bar into a sinewy, risk-taking vocalist and "top-flight pianist" (the Chicago Tribune).
Barber did not start writing her own songs with lyrics until the early 1990s, and continues to perform them alongside jazz standards, vocal and purely instrumental, and occasional jazzed up pop covers. Today she is recognized as one of the foremost songwriters of our time, compared more than once by the LATimes with Joni Mitchell and Peggy Lee. In 2001 Margo Jefferson of the New York Times announced: "This is what Patricia Barber has: adventurous piano playing, a low-vibrato alto on perpetual rhythm and timbre alert and smart songs about the way we think and live, not just the way we love… This is the kind of art we need to be on the lookout for everywhere. The 21st century has started. We can't afford to be left behind." Barber has an uncanny knack for embedding complexly layered music and verse in classic Barber-tweaked song forms marked by exquisite elegance, strange commentary, and brilliant, funny surprises. Elsewhere the NY Times called her a "literary critic, philosophy student, and needling social commentator rolled into one." And The Minneapolis Star Tribune summed her up in a headline that read "Part [Cole] Porter, Part Prince, All Art," adding that Barber is "the most complete jazz artist today."
Support: The Ronnie Scotts All Stars
+ support tonight: The Ronnie Scotts All Stars with Special Guest vocalists Emma Smith (Mon) and Natalie Williams (Tues)
Monday's band line up: Alex Garnett (tenor sax), James Pearson (piano), Sam Burgess (bass) and Ed Richardson (drums).
Tuesday's band line up: is Alex Garnett (tenor sax), James Pearson (piano), Sam Burgess (bass) and Chris Higginbottom
The Ronnie Scott's All Stars are comprised of some of the greatest talents on the U.K scene, including some of our most regular performers James Pearson (piano), Sam Burgess (bass) and Pedro Segundo (drums)
James Pearson:-
Musical Director at Ronnie Scott's and the owner of a ferocious piano technique coupled with a sense of musicality rarely heard, James Pearson is one of the most exciting musicians to have emerged from the U.K in the last 25 years. After working with him, the late jazz legend Sir John Dankworth declared: "James Pearson is an exceptionally gifted artist. His masterful playing makes him head and shoulders above the rest of his contemporaries. He shows signs of true greatness".
Sam Burgess:-
Double Bass Despite only being in his early 30's, already Sam is a stalwart of the UK jazz scene. As well as appearing on numerous film soundtracks such as 'Bridget Jones's Diary' and 'Hannibal'. Sam's thumping, pounding, relentlessly driving bass lines have been heard accompanying the likes of Bob James, Billy Kilson, Gary Novak, Joe Lock, Dave Kekowski, Guy Barker, Dave O'Higgins, Pete King, Gareth Williams, Claire Martin, Jim Mullen, Alan Barnes, Tim Whitehead, John Horler, Gwyneth Herbert, John Dankworth, The BBC Big Band and Robbie Williams.
Pedro Segundo:-
At 22 years old Pedro Segundo, Portuguese drummer joins the James Pearson Trio at Ronnie Scott's Jazz Club.
Born and raised in Lisbon, picked up the drums seriously at the age of eight starting studying classical percussion a year later. In June 2011 he graduates from Guildhall School of Music and Drama in Timpani and Classical Percussion. His musical ability combines a blend of styles creating a unique sound on the drum set. He has played regularly with Dennis Rollins, Femi Temowo, Mário Franco, Cleveland Watkiss and many other artists touring in festivals all around the globe.
Other regular performers include:
Dave Ohm (drums), Natalie Williams (vocals), Alex Garnett (sax), Nigel Price (guitar), Steve Rushton (drums), Polly Gibbons (vocals), Alistair White (trombone), Gary Baldwin (hammond), Al Cherry (guitar), Matt Home (drums), Alan Barnes (sax), Ralph Salmins (drums), Arnie Somogyi (bass), Mark Smith (bass), James Nisbet (guitar), Pete Long (sax), Gerard Presencer (Trumpet), Dave O'Higgins (sax), Alec Dankworth (bass), Steve Fishwick (trumpet) and others...
To find out more, please go to:
www.myspace.com/thejamespearsontrio